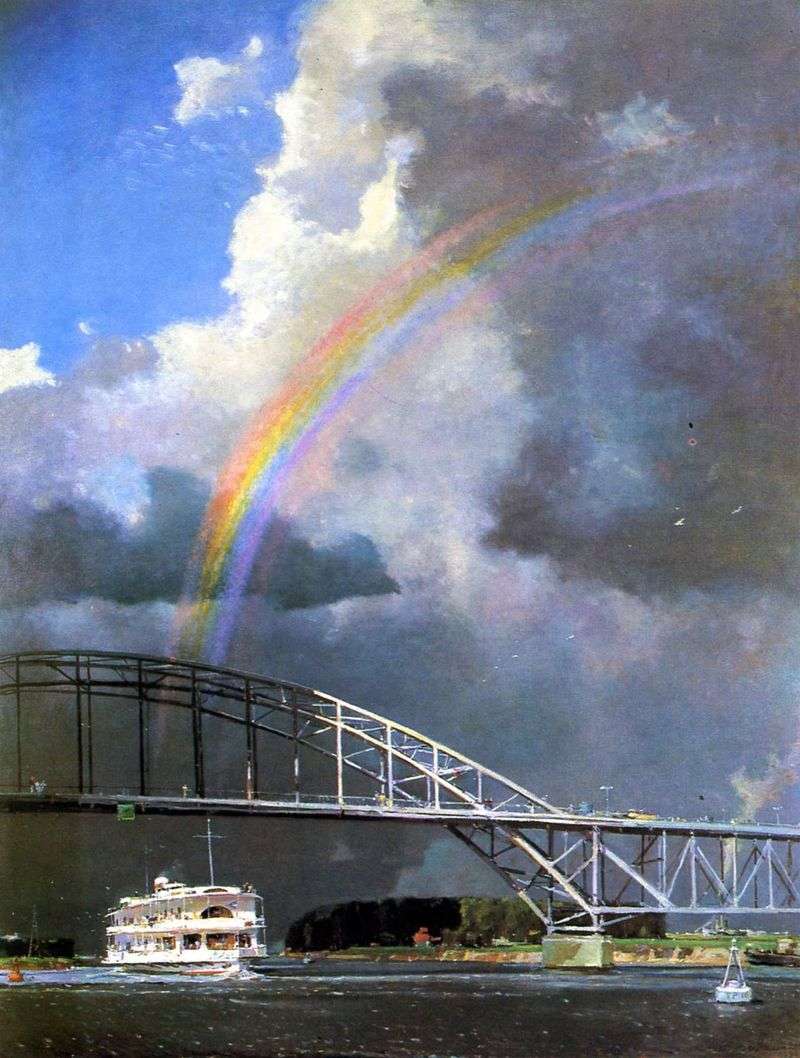 G. G. Nyssky is my favorite painter. His paintings reflect and return us to the Soviet era. He loved to sing the urban landscape. His attention was always attracted by high houses and large bridges, all that a person created and designed himself. The artist saw this as the strength and potential of the era to which most of his works are dedicated. The picture "Rainbow" written in 1950 is no exception.
The main hero of this work is the phenomenon of nature, the rainbow. She is depicted above the river after the rain. It is the rainbow on this canvas that plays with colors, it rushes to the sky and gives its meaning to the colors, scattering them all over the landscape.
As it is known, a rainbow happens after a rain, and the artist depicted e in the same sequence, as we see that the menacing clouds have not yet disappeared in the sky. But the rain ended, and the sky gradually began to brighten. And now in the right corner of the landscape, we see the sun breaking through the clouds. One can imagine that a rainbow that rushes upwards is a signpost for people in a good mood.
Dilutes gray everyday life, unremarkable soy brightness. Another picture shows a river, it is the same dark color as the clouds in the sky. We see the ship, which, in spite of adversity, runs through the waves, leaving behind it white lambs of water. I noticed a small feature, the mast on the ship resembles a cross. It seemed to me that the artist thus blessed the ship for the journey.
In general, despite the raging bad weather, much good can be seen on the canvas. Sunlight, a bright rainbow, and a mast in the form of a cross. The main thing is to believe in the beautiful. And then we will see in the dim gray colors, bright moments. We will learn to revive boring everyday life with colors, as it happened in Nyssa.