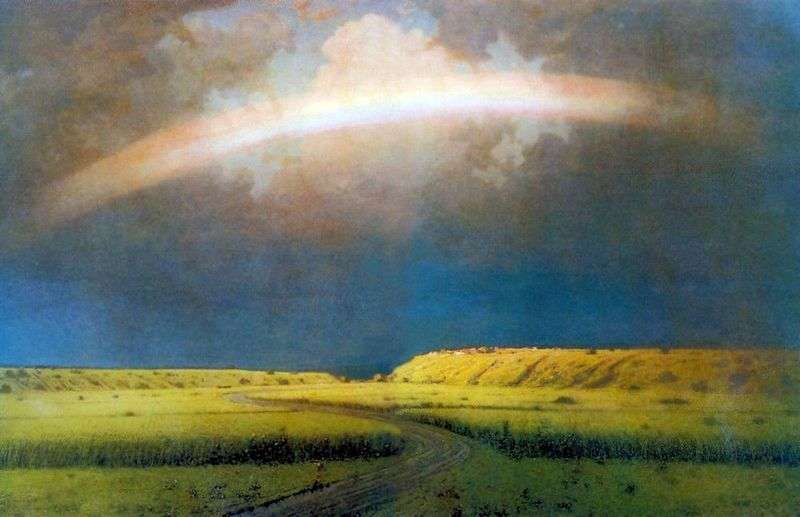 In the painting "Rainbow", the author depicts an ordinary landscape in an unusual manner of exposition. He managed to make absolutely simple things special. On the canvas of the artist we see a broad steppe with a winding, running in the distance road. The emerald motley grass of the plain has just been lit by the first rays of the sun, which were able to break through thunderclouds.
Looking at the picture, it seems that you feel this freshness left after the pouring rain. And so, the dark sky parted, and showed the world a beautiful multicolored rainbow, which in the form of a beautiful air bridge connects one part of the sky to the other. It is like an illusion and, at the same time, a reality that creates a sense of delight, and an all-encompassing enthusiasm. I want to admire the beauty of nature endlessly. Rainbow in the picture can also act as a symbol of the victory of good over evil. The sky takes up most of the picture. Perhaps, in this way, the author encourages the viewer to reflect on the mystery of the universe and the secrets of the universe.
In the background, the green plain smoothly turns into a yellow, sun-drenched. Because of the small elevations on it, it begins to seem that this is not a plain, but huge haystacks.
An amazing combination of warm and cold colors on the canvas, gives a feeling of calm and peace. The contrast between shades is advantageous for the artist. The bright yellow color of the plain looks very good against the background of the gray-blue stormy sky.