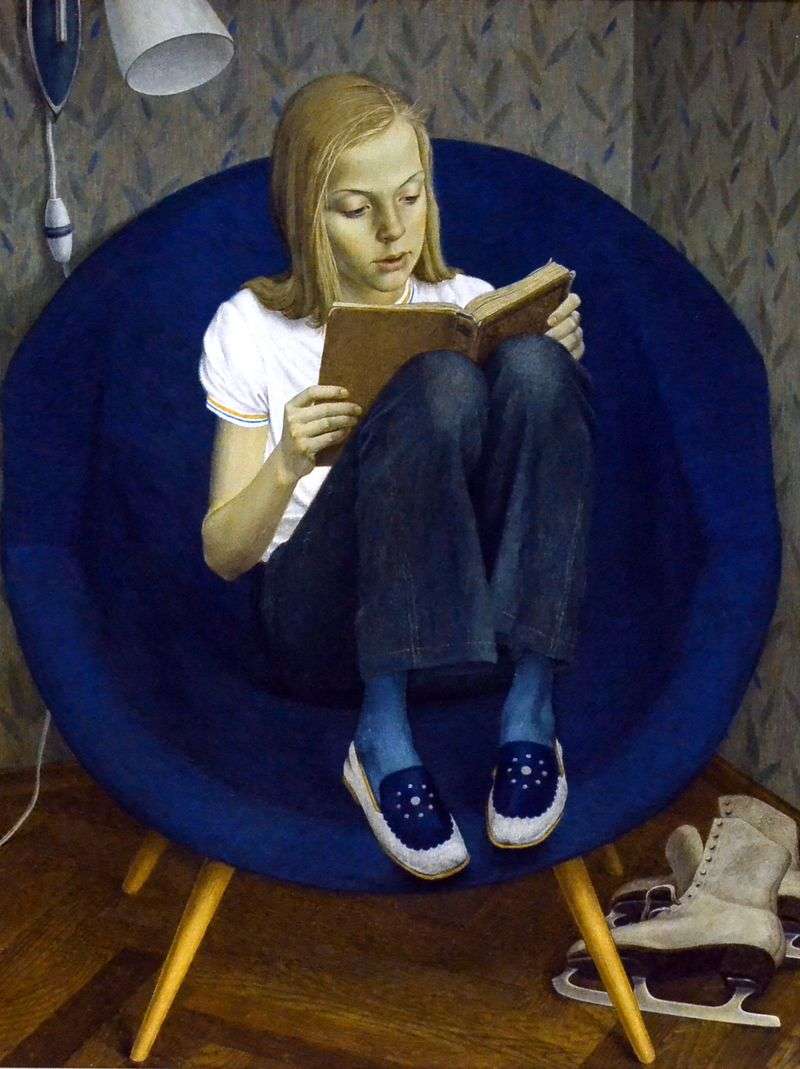 Khabarova, many researchers, as well as critics consider the famous Soviet portrait painter, a true master of his craft. In the opinion of the majority, he is able to convey with his works a whole historical stage of life, as they lived in those or other times, than people were fond of. One of these portraits is the painting "Portrait of Mila", which the artist painted in 1970. Despite. That this era may still be close to us, we can see that there is a difference, and it is in the book that the girl is passionately reading. In my opinion these days, the younger generation of the book was preferred by
TVs and computers.
The center of the portrait takes the image of a girl who comfortably resides in an armchair in a round shape, his gaze is fixed in a book, and she is very keen on her occupation. Compositional picture is drawn in the opinion of critics correctly, the proof is that of a rectangular canvas, and a blue armchair with a blond schoolgirl. The girl sits seemingly in an uncomfortable pose, but this is the author's idea, to convey all her interest in reading the book. She completely fits in the chair with her legs tucked. The image of the lamp, gives this portrait a cosiness and harmony. A gently pink color of the wallpaper, tells us that this room is nothing other than the room of this girl. The girl seemed to me fully developed, as skates cast in the corner of the room say. Rarely in our time you will meet children who are fond of reading and figure skating.
The painted parquet flooring glitters from the light of the sconce. Contrast creates light from the lamp and skates thrown on the floor. In my opinion, the artist wanted to show us a girl who is bright and innocent, and in some ways even defenseless. It seems that outside the window, winter, and Mila, just returned from the rink and began to read your favorite book.