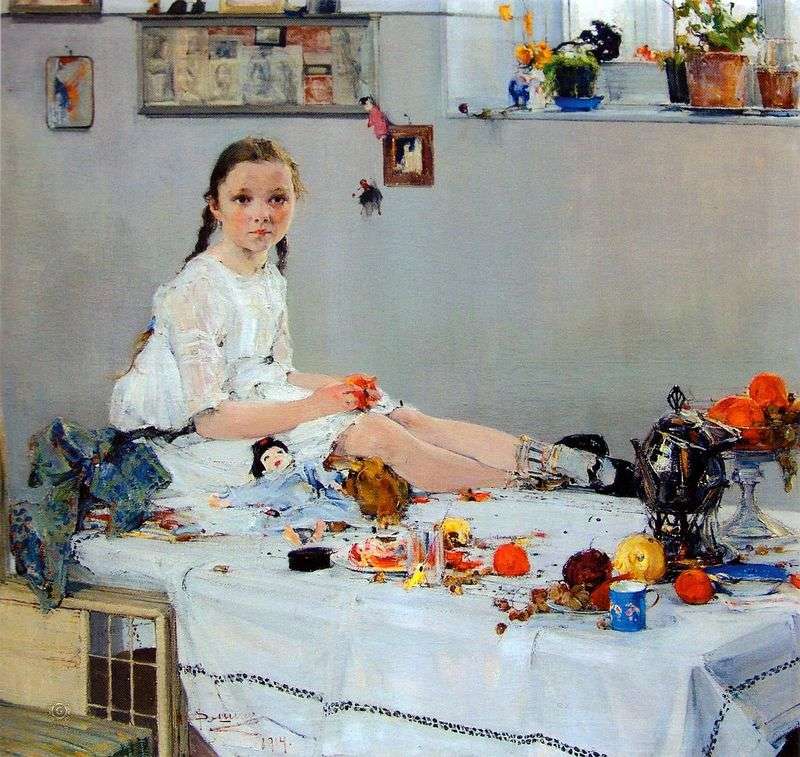 A clean room filled with light and air. A large table covered with white cloth is strewn with children's toys, sweets, fruits. And right on the table, in the middle of the objects scattered in artistic disorder, a girl of about nine is sitting. In a snow-white cambric dress, with a greenish-blue bow and two pigtails of golden-blond hair, she herself looks like an animated toy – gives her only a serious look of large brown eyes. It's a small Varya Adoratskaya.
"Portrait of Vary Adoratskaya" – one of the most famous and recognizable paintings of Nikolai Feshin. It was written in 1914 by the order of a student artist, a patron of art NM Sapozhnikova, which Varya was a niece.
Having begun work on the portrait, the artist several times changed the composition of the painting. Varya was seated in a wicker chair by the table, disguised several times before Feshin achieved the appearance of the desired image and color. But the girl obediently listened to the master and patiently posed, despite the uncomfortable position in which her feet were numb and numb. It was impossible to argue with the artist – in this position, in his opinion, it was possible to convey the natural gracefulness of the child's figure.
In "Portrait…" Feshin managed to apply a new, somewhat extravagant compositional device – the figure of the girl is not in the center of the canvas, but slightly offset from the central axis. The foreground of the painting takes a still life in details. But at the same time the artist, despite the asymmetry of the composition, managed to create one of the most harmonious of his paintings.
Harmony and balance, touching and carefree, open children's image, a delicate color scheme brings together Feshin's work with V. Serov's painting "A Girl with Peaches". They began to compare immediately, after the first appearance of "Portrait…" at the exhibitions. Indeed, the pictures are similar in mood, expressive means, images and the atmosphere of happiness inherent in childhood.
In perfect form, embodying the image of childhood, "Portrait of Vary Adoratskaya" occupies a worthy place among the masterpieces of portrait painting.