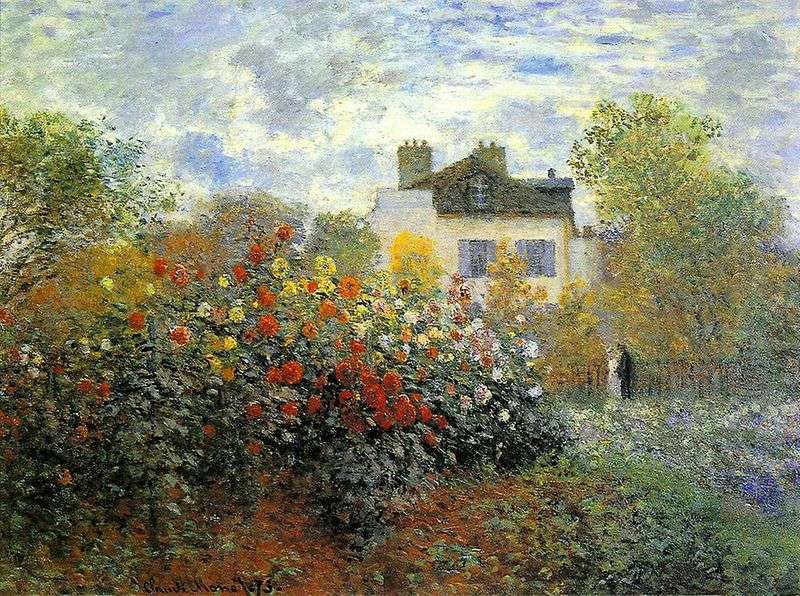 "Garden in Arzhantey" was among those paintings by Claude Monet, which is called the "most famous". The period of writing the picture coincided with the artist's relocation to the village of Arzhantey near the right bank of the river Seine. It was a popular spot among Parisians for evening and afternoon walks. Presented canvas refers to a number of plein-air works of Monet. It conveyed that astringent dryness and the crunchy structure of withering plants that are found in late autumn.
A small house is buried in withered foliage and hides a cream whitewash in a damp mist. He is cozy, funny folded and looks completely devastated. Dilutes autumn pale sadness the mass of red flowering heads of autumn flowers. These are dahlias – autumn long-livers. They bowed long stalks under the weight of flowers. Yellow, white, red, purple – a real kaleidoscope of warm colors.
The work looks friendly, in spite of its seeming chastity. Thanks to the delicate texture of the letter and the warm color palette, the plot warms both the soul and the eye. Monet was able to convey the true mood of nature, losing its greenery and moisture. Little sun, little light, little dryness. But the author "found" his autumn at the moment of the fertile blooming of dahlias and the metamorphosis of the surrounding nature. There are no bare branches yet, the crowns are about to become covered with rust, grass is motley green-red Dalmatians spread along the ground…
The composition of the picture "Garden" is built diagonally, separating the distant and the first plans. The first, he is the main one, is most saturated with fine dense details. The background appears more empty, but due to the large details it is balanced with another part of the picture. Diagonal construction of the composition is often used by Monet in his works, as well as the floral theme in his landscapes. The garden in the village of Arzhantey is one of the three to which Monet dedicated his creations. It is worth noting that the artist paid no less attention to his greenhouses and gardens than to artistic creation.