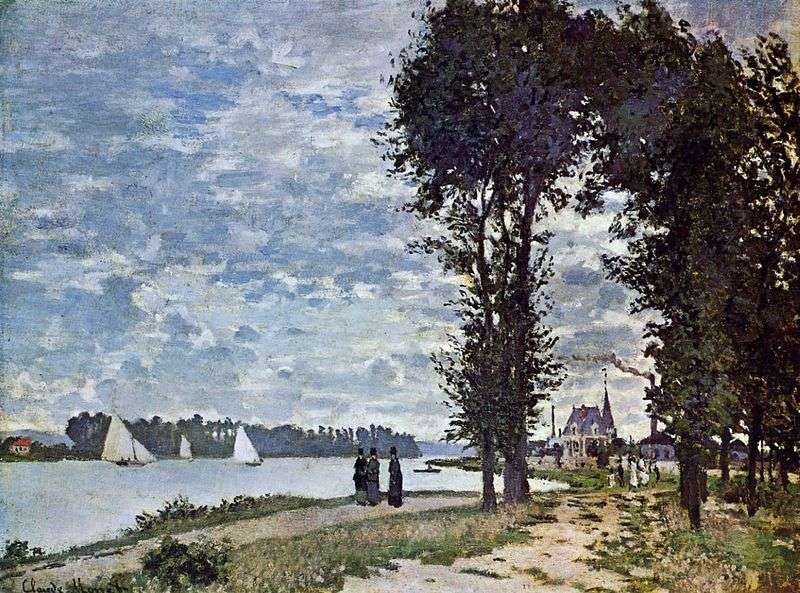 Claude Monet – a bright representative of French impressionism. The style of impressionism involves the transfer in the picture of a certain moment.
Pictures of such a plan are written quickly to capture the desired state of nature or the objects depicted. This explains the technique of writing impressionistic works and etudes – a sweeping, seemingly careless broad brushstroke. The painting "The banks of the Seine, Argenteuil" was written in the most fruitful period of the artist.
Monet lived for a long time in Argentei and loved to paint local landscapes, the Seine, sunsets and sunrises. He transferred his impressions of what he saw into his paintings. The picture shows the embankment of the river Seine, with tall trees, in the distance you can see an ancient castle with spiers aspiring upwards. Ladies stroll slowly along the embankment.
Boats with white sails ply the water surface of the river. The sky is almost completely covered with heavy clouds, only in some places you can see the blue sky. The dark foliage of trees has clear silhouettes against the sky. This is an overcast day, which is already coming to an end. The artist conveyed in this realistic landscape his state of reflection and contemplation by nature.