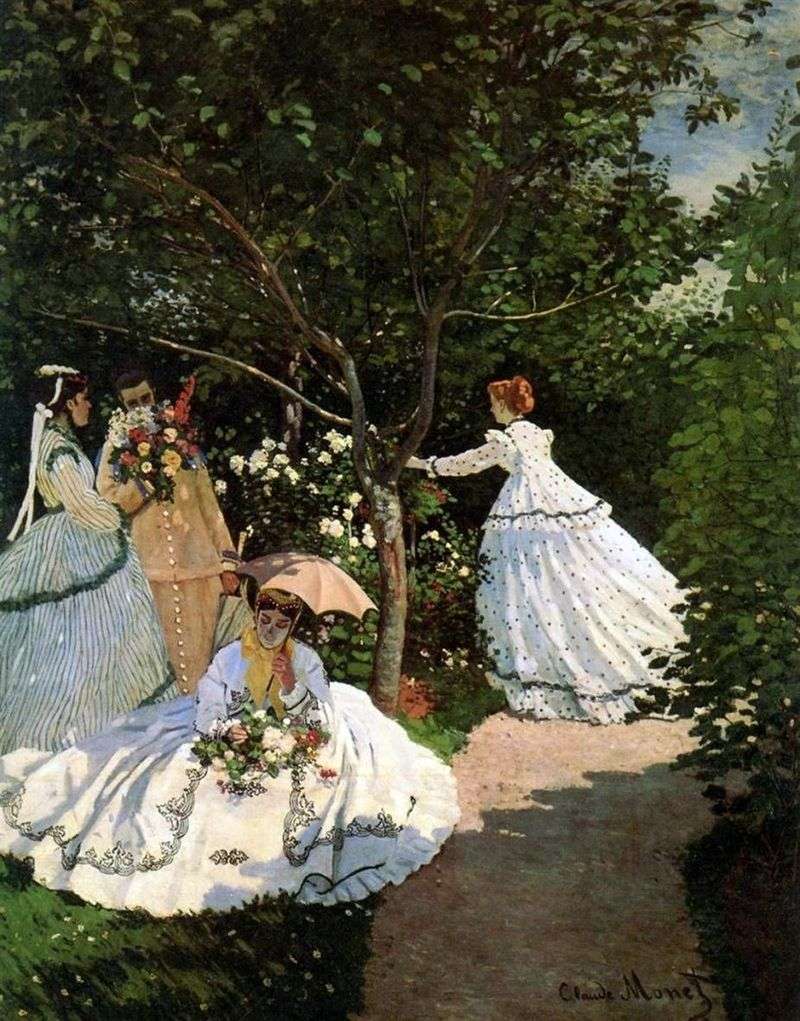 Claude Monet, the brightest representative of impressionism, painted this picture in 1866. It depicts women walking in the garden, resting under a tree.
It can be seen that the garden is very well maintained – beautifully trimmed bushes, carefully groomed path. Silence, the tranquility of nature and the summer garden are flowing from the picture to the viewer.
Claude Monet depicted the hot summer season in the picture. The women who went for a walk have light, seemingly weightless cotton dresses with full skirts.
The figures of women, although the central characters of this canvas, do not interfere with showing the artist the main thing – the beauty and perfection of the summer day, nature. Therefore, although the figures were written quite clearly, the artist did not pay much attention to details. The main mood in the picture of Monet "Women in the garden" is the harmony between the flowering of nature and images of young women in her bosom.
Outside there is wonderful weather – the ladies went for a walk. A woman in the foreground of the canvas crouched on the grass – the rest are standing. A small umbrella in her hands protects her delicate pale skin from the rays of the sun. Despite the fact that each of the women is passionate about their occupation, it is clear that they are all one company.
The weather in the picture is hot and fresh, the sky is clear with small clouds. In this weather it is very good to go for a walk in the garden. On the faces of all women, the satisfaction of both the weather and nature is easy to read. Images of women and nature are wonderfully harmoniously combined on the canvas of Claude Monet.