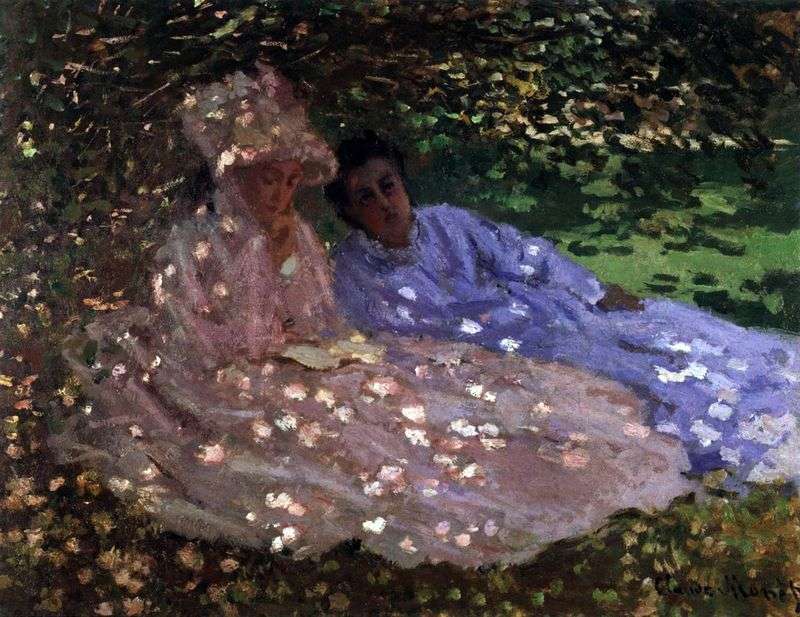 The impressionist canvas by Claude Monet "Madame Monet in the Garden" was written by the artist in 1872. The picture is in a private collection.
In this work, the impressionist manner of the image is very clearly traced. This method of writing is distinguished by pronounced lightness, lightness of color, harmony, softness of proportions, smoothness, airiness of a painterly stroke. The goal of impressionism is to create the impression that the transmitted moment of reality becomes memorable, delays the viewer's feelings, causing an inner experience, filling it with light, colorful thermal particles.
"Madame Monet in the garden" – a picture of the classic version of impressionism. Everything here is designed to create an atmosphere of a summer day in a beautiful garden. The warm image of the garden pierces our sensory perception, attracts with its trepidation of colors, scattered on the picture plane exactly multicolored fiery sparks.
The central image are two figures resting in the thick shade of the garden, one of which depicts Madame Monet. The look of Madame Monet is as if saturated with air and with a pinkish light of delicate shades like flower petals. The female figure is dressed in a fluffy dress like a cloud with an elusive outline pattern softened as much as possible by colorful brushstrokes. Madame Monet is immersed in reading a book. Her focused look speaks about the attention and dedication of the artistic plot of the work.
Images are barely distinguishable, lost in the infinite space, dotted with "fragments" of sunlight. The image can be compared with the stylization and rather resembles a colorful pastel picture. The work turned out bright, lively, expressive, solemnly beautiful.
The picture "Madame Monet in the garden" in the imagination of the audience scatters in space like silver smithereens. Comprehensive natural fabric of the garden is the connecting motif of the canvas.
The author of the picture invents incredibly beautiful color combinations of blue, pink, green. All these complex color combinations and blends give rise to a single work, which draws before us a beautiful image of a verdant garden.