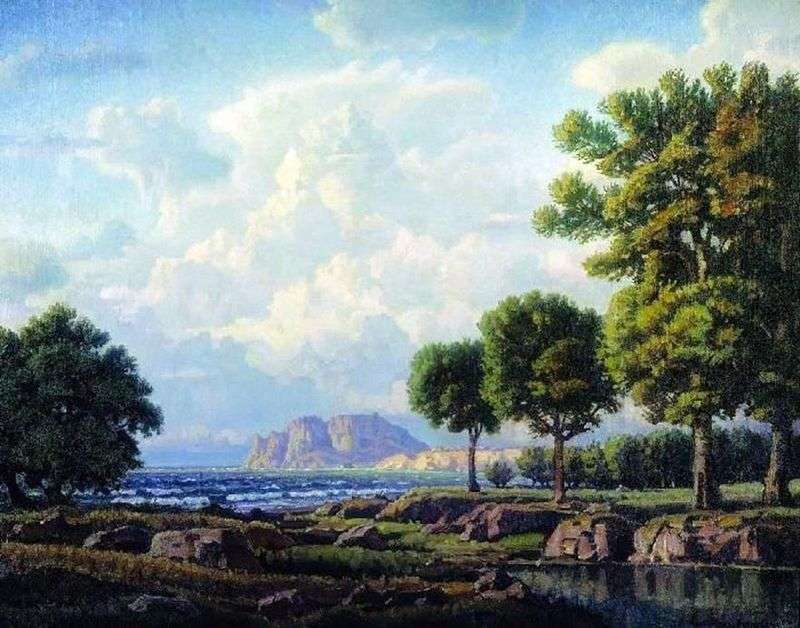 The same heroic motive underlies the work "Evening by the Sea". A flat stone beach in the foreground is immersed in the twilight. Lush crowns of tall trees on it are lit by the rays of the setting sun and majestically look at the background of the sky and distant mountains. Their dense color saturation contrasts with the lightness, transparency of the distant plan, solved in light colors.
Trees and a stone massif, which goes into the sea, are arranged diagonally and create a linear perspective, leading the view into the depth of the picture. A low horizon opens up a large space of the sky. Involuntarily
you feel involved in this landscape, surrounded by these rocky shores, the hushed trees, the blue sea. The painting of the painting conveys a feeling of raw sea air enveloping trees, mountains creeping along the earth, rising upstream and turning into a tremulous, full of moisture clouds.
In "Mountain Landscape" and "Evening at the Sea" Bogaevsky changes his former habit of depicting in the canvases ancient ruins, thereby emphasizing the historicity of the landscape. The antiquity of the earth is transmitted in these paintings primarily in a realistic, almost tangible representation of time-shattered shores, weather-beaten and washed by the rain of low mountains, old trees that give the impression of fairy giants slowly marching to the sea.
Thanks to the amazing integrity of the composition structure and the harmony of color relations, Bogaevsky's landscapes grow into epic images of nature, imbued with emotional sounding, a heroic feeling. They clearly express the author's own thought about the sublime beauty of the eastern coast of the Crimea, about his and ancient antiquity. These properties were inherent in the earlier, pre-revolutionary works of the artist, but in the last decade of the creative activity of Bogayevsky's painting he gained a sharper sense of the reality of the surrounding nature, the concreteness of the depicted motive.