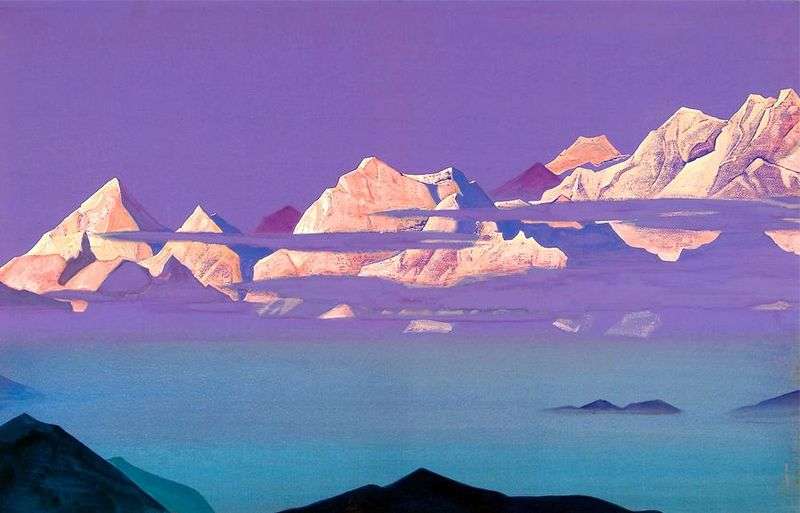 The painting "The Himalayas of the Pink Mountains" is the work of a mature master, the creator of heaven and mountain spaces. The mountain landscapes of Roerich, which depict the Himalayas, attract a special color, rich colors. The name of the painting itself contains the component of the meaning that the canvas is intended to realize, namely, the feeling of color, the feeling of tenderness of colors, when the harsh, unapproachable mountain peaks can soften the pink pale lilac rays of the sun.
The pink mountains are an unusual image, an image that reverses stereotypical images of mountains and
pictures of mountain landscapes. Roerich brings the idea of feeling, the idea of spirit into the system of artistic coordinates. In front of us are not the typical gray dull giant mountains, but special pink mountains fanned by the sun and the air. The spirit level allows us to feel this height for a while, this elevation above the earth and proximity to the sky, to the pink, purple clouds, go into these pink dreams, soft, multi-colored dreams and dreams. To enable your spirit to feel this beautiful lightness of being.
Leave for a time earthly, boring firmament and drown in pink mists, so resembling mountains, clouds, or even overflows of bright satin ribbons burning in the sun.
Roerich's canvas "Himalayas. Pink Mountains" is a canvas – a symbol, a landscape-symbol. This pictorial work is three-dimensional, full of signs, semiotic and complex, as the work itself and the personality of the artist. Roerich's paintings are paintings-reflections, paintings-prayers, paintings-symbols.