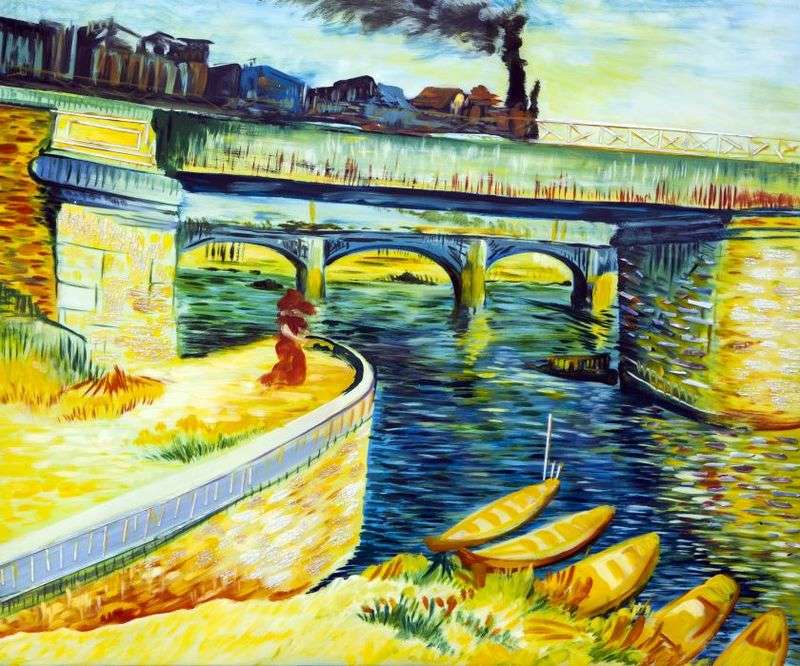 Van Gogh finished this painting in 1887. On it, he portrayed as the beloved River Seine. When he was in Paris, he always came to the river, admired her landscape. He was very fond of bridges passing through this picturesque river.
This painting is written in bright, saturated tones that create joy, the energy of admiration for nature, the play of the sun. All the rest, as it disappears in the sunlight, which extend to houses, bridges, the sky. The sun occupies the main role in the picture, it takes the whole idea, conveys the depth of the picture. Everything else remains, as it were in the shadows, but it does not disappear in the shadow of the sun, but, on the contrary, reflects all objects. Bridges, water, bricks – everything is represented by a fiery color.
At the same time, the picture is filled with even greater light, it looks more sunny. The colors used by the artist give a mood, optimism, hope, faith, cheerfulness. Van Gogh boils in life, he is irrepressible, in perpetual motion. He perceives all things as observation, a life phenomenon.
The artist in his painting does not describe, as such, the process of sunset. He describes the sun in general, entirely. He is trying to convey the sun's rays scattered on the canvas. These rays do not come from anywhere, and they do not know where they lead. They are here, they live in this picture, are here, thicken over all objects and absorb the whole picture.