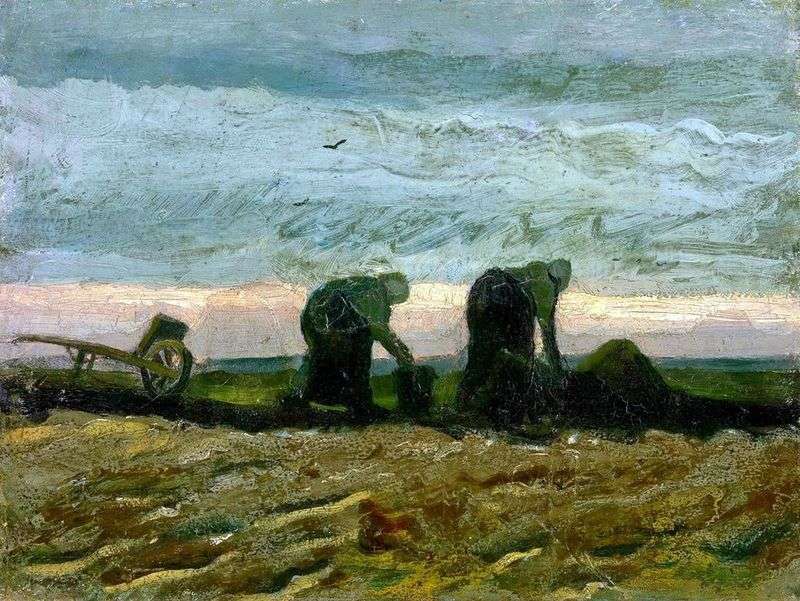 This work, like many pictures of the early period, is devoted to the scene of peasant life. In its design and composition, it echoes the "ears collectors" Jean-Francois Millet. The work of this outstanding artist of the XIX century had a very strong influence on the artistic development of Van Gogh, as their ideals and views on the theme of peasant life were very similar.
Most of the canvas artist takes the sky, painted in warm colors of sunset, which are higher in the greenish-pink shades of cloudy haze. The sun has already set, and the landscape is illuminated by its last rays. However, two figures of peasant women remain dark, faceless and nameless, completely untouched by light. They are relatively close to the point from which the landscape was painted, but at the same time resemble two monumental statues towering somewhere on the horizon.
The color with which women are written is no different from the color of the earth on which they stand, so they seem to have grown into a land that has become one with it. Van Gogh often used similar techniques to show the truth of the peasant life, their inseparable connection with nature and the land that keeps them and feeds them. The sunset rays lightly illuminate the plow lying near the peasant women, and color the hillocks of plowed soil in warm ocherous, pink and brown tones.