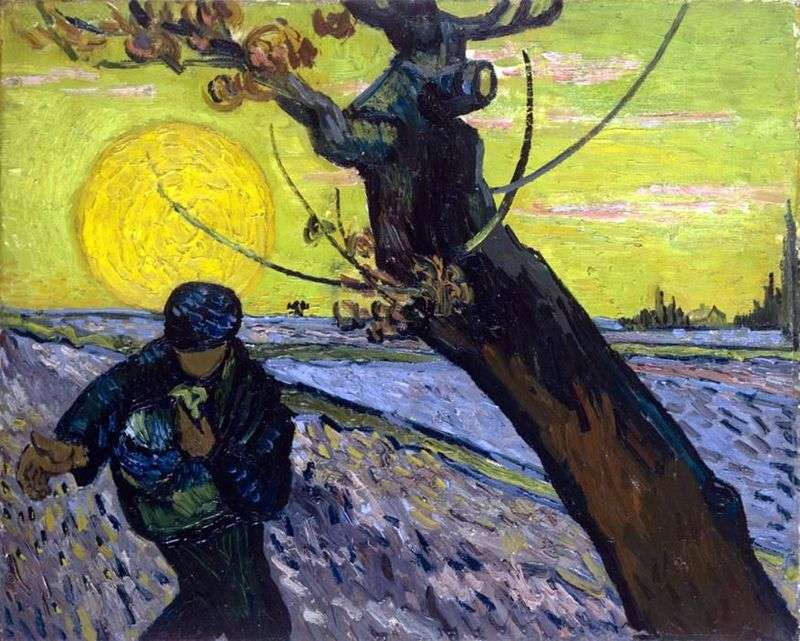 Sower
The painting "The Sower" was created by Vincent Van Gogh in 1888, a couple of years before his death. The picture is rather small in size. At the moment, the canvas is stored in the Netherlands, in a museum dedicated to the artist's work.
Van Gogh was very fond of people, human labor. This is a favorite theme in his work. On most of his landscapes you can see a person who is busy with something. An example of such a picture is the "Field of Tulips". For the entire creative career, the artist wrote several versions of the sower. The writing of the very first artist was inspired by the work of Millet. Van Gogh did not just depict the sower, this character makes a lot of sense. The sower symbolizes infinity.
Behind the sower is the sunset, the sun is very large, it is like a halo for the hero. Between the hero and the sun there is some similarity, he himself is like a sun-sentress, descending through the sun's rays, to give light to the world. He does not throw seeds on the ground, just as the heavenly body sows its heat and light. The only difference is that the sun's rays shine up, and the human's hand is down. Seeds thrown by man sprout in the earth, so a new life arises, and therefore it is attributed to infinity, which is represented by the eternal rebirth of all living things in nature.
Very close to the viewer grew a tree, because of which the picture seems flat. The sun turned out to be too huge, it takes half the sky, which draws from it yellow colors. Van Gogh seemed to change the colors of the field and the sky in places, the sky shines with golden light, and the field became purple. The artist had his own special look at this story.
Van Gogh wrote this picture very quickly, he did without any sketches. He really wanted to write this picture as soon as possible, he was moved by a great desire to portray this story. He began to paint at once with paint on the canvas, without sketching. Each regular smear gave this picture more and more colors and animation.