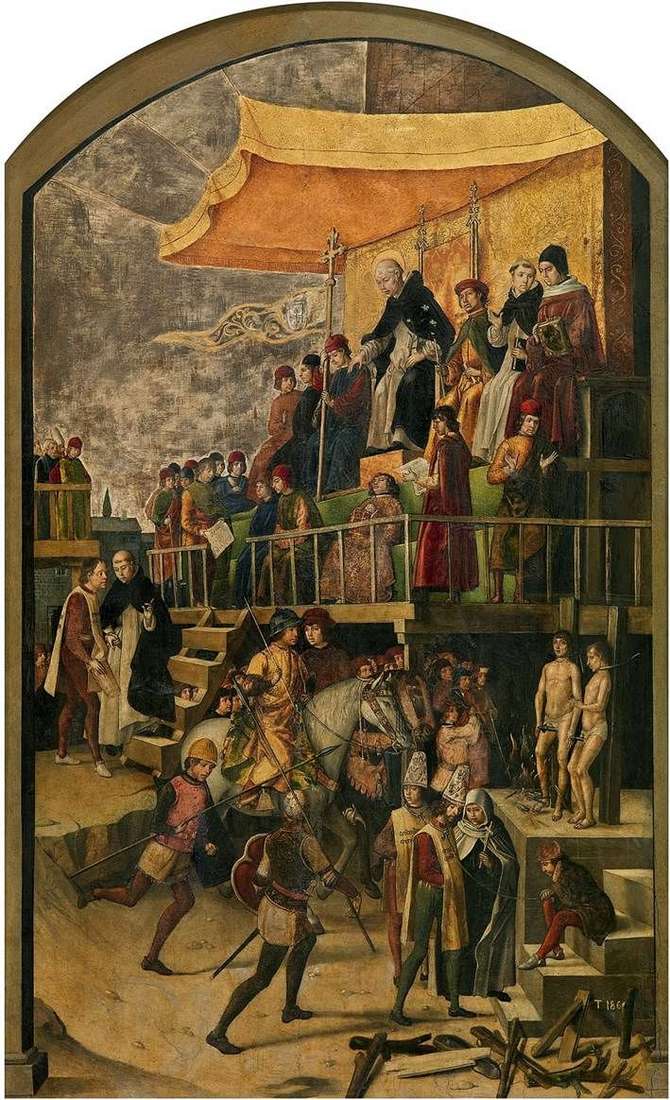 The theme of the auto-da-fe, that is, the burning of heretics, was one of the revered in Spanish church painting. The images on these themes were not only adorned for altar borders, but were often placed next to a large altar. So this work: first intended for a small composition in the gallery of the monastery of Santo Domingo de Avila, it was moved to the temple and installed near the main altar.
The picture depicts the massacre of the Albigenses, ruled by papal justice under the chairmanship of Saint Dominic. Albigensians, who preached apostolic Christianity and strictly moral and solitary life, were first called "good people", and after their excommunication from the church at the cathedral in Toulouse in 1119 – "Toulouse heretics."
In the 13th century, a crusade was declared against them, the war lasted more than 15 years. As a result, the beautiful and blooming provinces of Provence and Upper Languedoc were devastated. The pope sent a whole army of inquisitors, mostly Dominicans, who built persistent Albigensians at the stake.
In the XIV century the Inquisition raged in those places. The upper part of the composition is occupied by the tribunal sitting with the standard of the Inquisition under the high canopy. The death sentence is read, the last orders are given and executed, the priest calls convicts to repent before his death, the public is waiting for imminent punishment of the heretics.
Below – two convicts To be burned. They are tied to the pillars on the platform, and a number is schematically depicted fire. Still lower are the other convicts; they are in the "San Benito" – special caps and clothes for execution with the inscription "sentenced heretic."