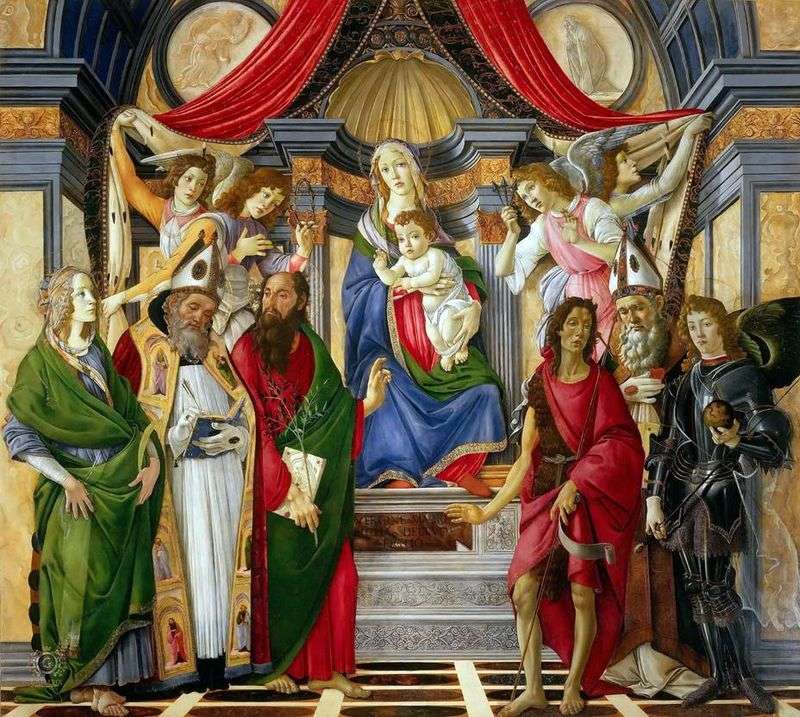 Madonna with the Child on the throne, the four angels and the eight saints, or the Altar of St. Barnabas
Central part: Madonna on the throne, four angels and saints – Left: Catherine of Alexandria, Augustine, Barnabas, Right: John the Baptist, Ignatius and Archangel Michael.
The passionate depth of emotions imposed a stamp on the works of Sandro Botticelli. Botticelli's painting of the late 1480s, when the atmosphere of religious fermentation is being pumped up in the city, shows that the artist is overwhelmed with excitement, he experiences a shock that later will lead to disruption in
his soul. During this period, Botticelli performed an altar for the Florentine church of San Barnaba, so-called. "Altar of St. Barnabas" – one of his great religious works, which became an unquestionable masterpiece. The order came from the influential Florentine Guild of healers and pharmacists, in charge of which was the church of San Barnaba.
On the central part of the altar image is the Madonna and Child sitting on the throne, surrounded by the Holy Virgin: Catherine of Alexandria, Augustine, Barnabas, John the Baptist, Ignatius and Archangel Michael. Due to the power of performance, some images of this composition look truly magnificent. Such is St. Catherine – an image full of hidden passion and therefore much more alive than the image of Venus; St. Barnabas is an angel with the face of a martyr. John the Baptist in the altarpiece of St. Barnabas is one of the most profound and most human images in the art of all time. Next to it is another one, created by the master, the most beautiful image of a young warrior in armor – Archangel Michael.
The majestic interior painted by Botticelli in this work demonstrates the artist's unmatched skill. In the upper part, above the folded canopies of the canopy are placed two tondos forming the ensemble of the Annunciation, on one the figure of the Angel is written, on the other – the Virgin Mary.
The altar of St. Barnabas was badly affected by the time, especially the many attempts to restore and finish the painting at the beginning of the XVIII century, later they were repeated, only in the 1930s the painting underwent a thorough restoration, thanks to which it acquired the appearance closest to the original one.