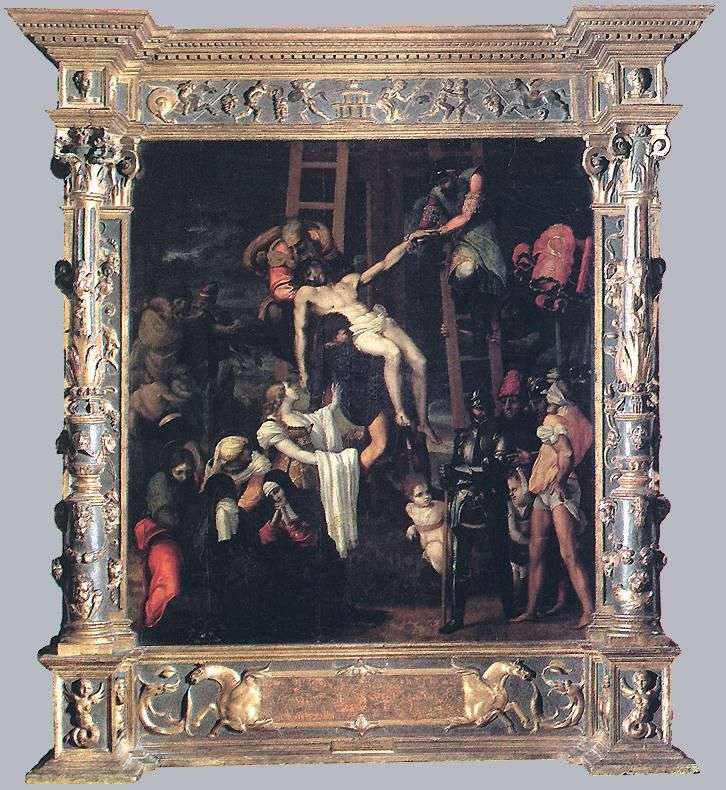 The painting "The Descent from the Cross" was commissioned by the Castilian rulers for the church in one of their villages. The inscription on the canvas dates the work to 1547 and ranks it among the late works made by Pedro Machuca after his journey through Italy.
The influence of the Italian artists is indicated by the modeling of the body of Christ, the figure of a young man with bare legs, and also the writing of fabrics in the clothes of the body of Christ Mary Magdalene. The center of the color composition and movement in the picture is a very expressive bright spot of the Figure of Christ
and Mary Magdalene turned towards him.
Roman legionnaires wrapped in armor look angry-grotesque characters in contrast to the followers of Christ with their sincere feelings and feelings, very realistically conveyed by the artist in gestures and poses. The dark background of the sky above the bright horizon corresponds to a general mood full of inner tragedy. Background figures are skillfully used to impart an impression of the presence and credibility of what is happening.
The whole picture is immersed in a dark color, only a few figures appear on a general dark background. Carefully reviewing this work, it is impossible not to note its realistic nature. It is especially noticeable in the interpretation of figures of warriors and children. Up until 1870, the painting by Pedro Machuki was kept in one of the collections in France. Then the picture went from hand to hand for nearly a hundred years, until in 1961 it was acquired in London by the board of trustees of the Prado Museum.