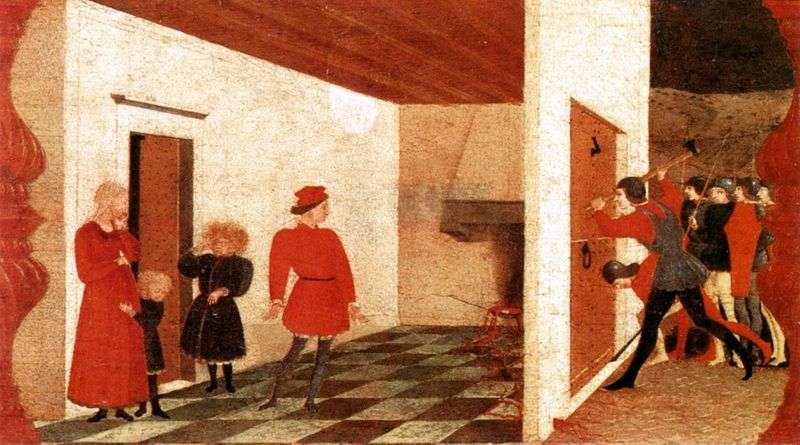 This scene forms part of the altar image written by Ucchello for the Church of the Holy Spirit in Urbino. It is known that the master had to write the entire altarpiece, but after completing the lower panels, he refused the order, and he was handed over to the Dutchman Ios van vanesshove.
Traditionally, the scenes on the lower panels of the altar image were closely related to the main scene, depicted on the central panel. In this case, the main plot of the altar image is the establishment of the Sacrament of the Eucharist. Working on the central panel of the altar image, Ios van Wassenhove portrayed Christ giving his disciples bread and wine during the Last Supper. Paolo Uccello, in accordance with the main story, illustrated on the lower panels of the image a widely known story in the Middle Ages about a Jew-moneylender, who tried to abuse, over a cachet – that is, over a particle of the Body of Christ.
The essence of it is as follows. A certain poor woman, wishing to redeem her cloak, which was mortgaged by a usurer, gave him, after his long pleas, a veil, stolen in the church. The Jew, in order to scold the Christian shrine, wanted to burn the cachet. But as soon as he set fire to this small piece of bread, blood miraculously came out of him. The unmasked Jew was arrested and, together with his whole family, was burned at the stake for his sacrilege, and the woman who stole the cot was hanged.