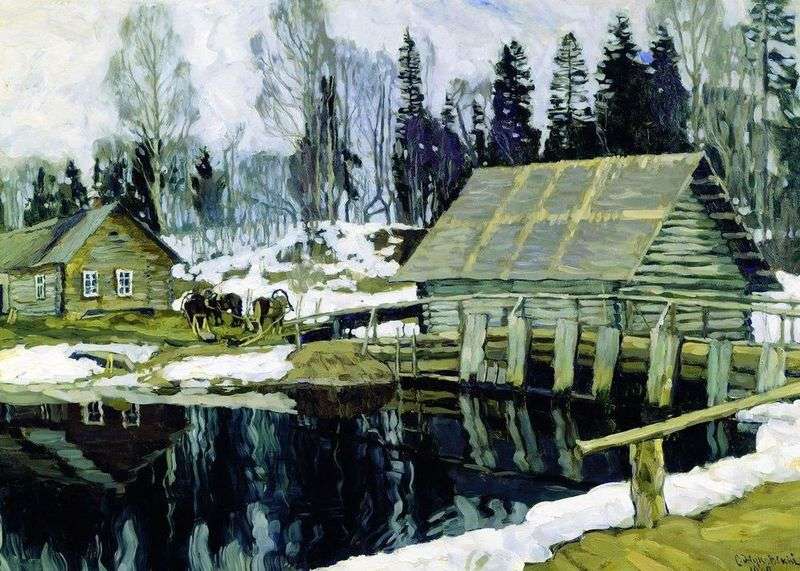 In his painting "The Dam" Zhukovsky S. Yu depicted a rural landscape. In the center of the work is a wide river dam. The water in it is cold and transparent. The thaw has already begun, so the water has not been covered with ice for a long time, and snow has melted on the roofs of nearby houses. Here and there, from under the snow, the frozen ground is visible. In a circle, platinum is surrounded by wooden planks and a log fence, which prevents the flow of water.
Near the dam is a small seedy village. Low self-made wooden houses with a wide roof resemble stories from children's fairy tales.
Against the background of gray walls, white window frames stand out clearly. Near one of the houses there are several harnessed horses, waiting for their master.
Behind the village houses is a snow-capped hill. It grows perennial firs and poplars. Planting gently passes into the forest. The sky was clouded by cumulus gray-white clouds, and there is not even a hint of a sunbeam. In some places, a little blue light breaks through small pieces. Perhaps soon it will snow again.
In the clear water of the river, houses, spruce and even the sky are clearly reflected. The author has very realistically managed to depict all the beauty of reflection in the water, using fuzzy, fuzzy brush strokes.
In general, the painting of the artist evokes some kind of calm and pacification. Perhaps this is facilitated by the expectation of an approaching spring and the hope that the cold will soon be gone, and a completely new life will begin.