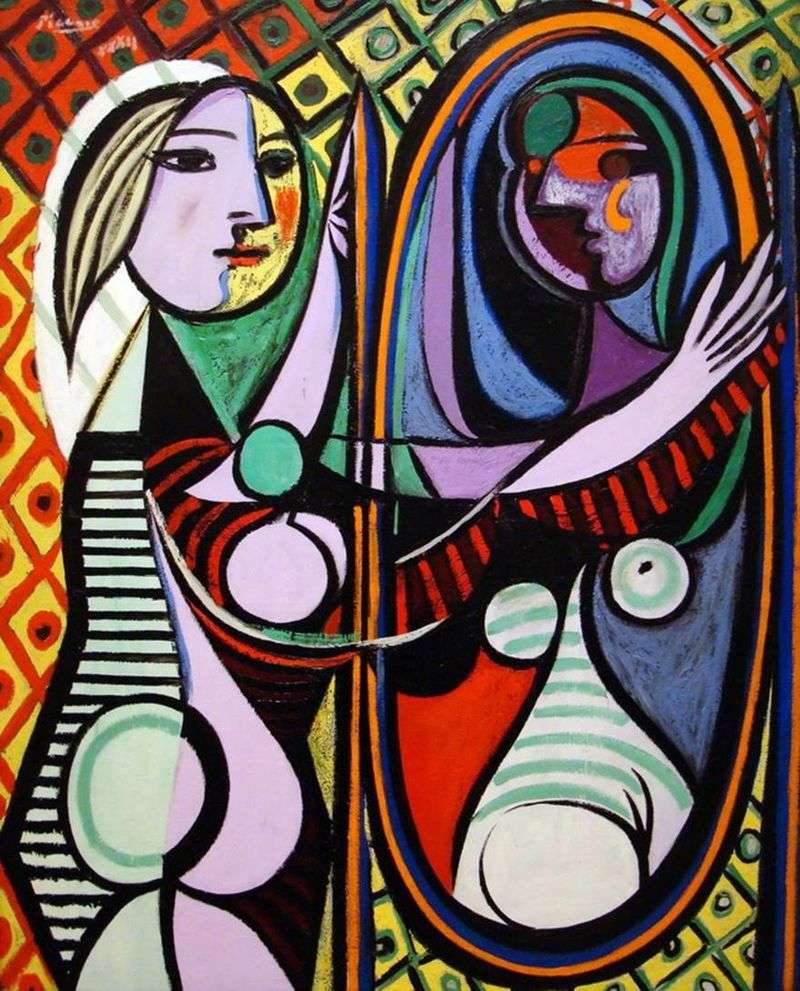 The metaphorical and mysterious painting "The Girl in Front of a Mirror" is dedicated to Maria Theresa Voltaire, a special artist's museum, which inspired him to surrealistic experiments. The main theme of the work is to search for oneself, for We are not what we see in the mirror, but something completely different.
And this essence is trying to see the heroine Picasso, carefully watching the reflection. The figure, complexly composed of geometric patterns and smooth, but elastic lines, is completely refracted in the reflection of the smooth surface of the mirror, which is presented as a kind of window into the inner world. The duplicity of the heroine Picasso conveys in her face, half consisting of a crescent. It seems that Maria Theresia is surprised at what she sees – a bright spot on her forehead, a riot of colors in the background, a foreign body.
Discouraged, she tries to touch the mirror, reaching out to him disproportionate uneven fingers. Probably the most discouraging detail of the heroine's belly looks like it's already not quite aesthetic, being reflected, it turns into a drooping circle. Picasso himself mentioned that he was also present in the picture, carefully watching his beloved. Critics are inclined to believe that the author had in mind patterns on the wallpaper, reminiscent of the Harlequin costume.
Bright, flashy colors, fancy ornaments, straight lines are collected, thanks to the fine taste of the painter, into a slender relevant composition that makes the viewer intently examine it. This is the greatest, almost hypnotic, appeal of the work of maestro Picasso. Like no other works, the paintings depicting Maria Voltaire are of great interest – collectors from all over the world are ready to pay a tidy sum for them. "The girl in front of the mirror" belongs to the most famous and valuable of them.