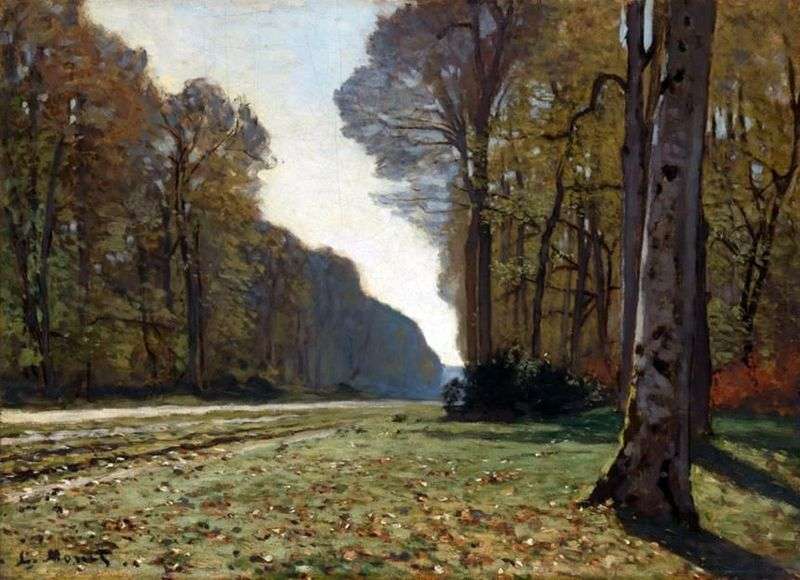 The work "The Road to Bass Bro, Fontainebleau", also known as "The Road to Chailly" was written by Claude Monet in 1865. The canvas stands out from the general mass of the writing technique. Each brushstroke is sharp and expressive, regardless of the fact that the thickness of brushstrokes is different everywhere.
The picture shows the road that goes into the depths of the forest. From two sides trees surround the road. The forest is filled with life and sunshine. Some trees and shrubs are already painted in autumn colors, fallen golden leaves can be seen everywhere. The forest stretches far, far along the road, and it is all lit up by the autumn warm sun. Despite the bright warm lighting, the forest looks gloomy and sad. This combination of joyful sunshine with calmness and a slight depression of the forest makes the viewer sad about the passing moments, brings memories.
In this landscape, Claude Monet used mostly light, faded shades, the trees are made in green-brown colors, some of which look through yellow. But on the right side of the picture you can still see the green area of the glade left over from the past summer. The landscape is brightly lit by the sun, the rays of which fall from above, thanks to them the forest looks very lively and realistic. However, the sky looks a bit gloomy and gray, bringing notes of sadness to the picture.
Many of the objects of the picture, such as the gray sky, fallen leaves of trees, gloomy trees in the distance, all this reminds the viewer that a cold and severe winter is approaching, and also carries a symbol of the dynamism of life, showing that nothing is forever, everything is changing. The artist did not accidentally select such colors for the canvas, he intentionally played on the contrast of objects, which bears optimism in himself, he says. The sun in the landscape reminds of itself with its rays, hinting that it is necessary to use good weather in the last warm days. All of these features help the viewer to perceive the picture not just as a gloomy landscape, but help to see in it a deeper meaning, to reflect on lost opportunities.