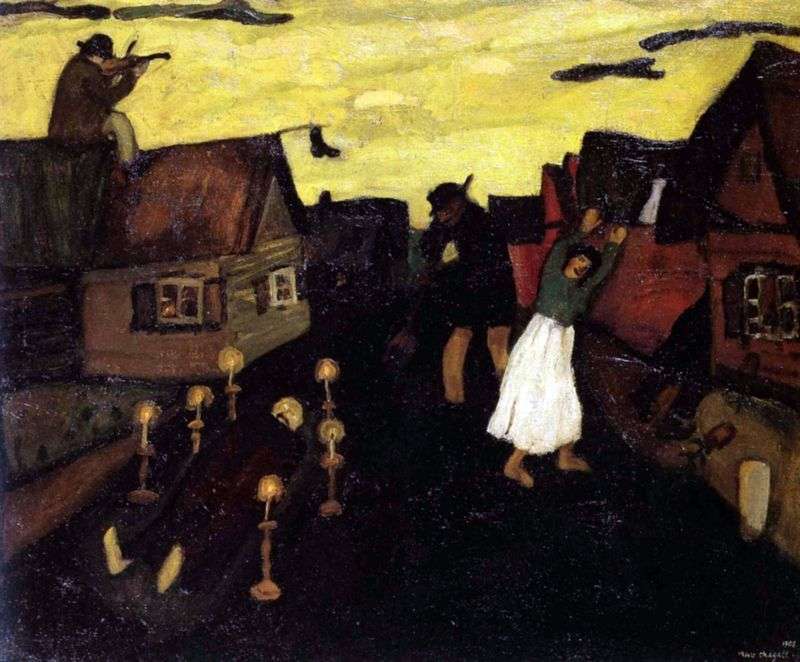 One of the 3 paintings presented by Chagall to the exhibition of works by students of the Zvantseva school. From this picture the artist began his creative creative biography. Its symbolism, bordering on religiosity, can not fail to impress.
This composition, performed in typically dark tones, was preceded by numerous etudes with a diagonal perspective. Judging by the poor sagging little houses, this is the outskirts of Vitebsk.
There is a dead person in the painting, candles are burning around him. In the mountain wails a woman, turned away from the corpse, running away from him. The mystical sense of death encompasses the viewer, despite the uncomplicated plot. The dark palette conveys a pumping feeling of anguish and irretrievability of losses. Street – black as death, lifeless houses without lights in the windows. Light – only from candles, and the sky – pale yellow – is painted in the color of their gleams. At the same time the picture is full of life: a pot of flowers falls from the window, a figure of a man running away from the canvas is seen.
The imperturbable street sweeper symbolizes the inexorable passage of time. The violinist climbing to the roof silently plays mourning melodies. The incongruity of its placement next to the shoemaker's sign reflects Chagall's strange fantasies, combining reality and fiction.