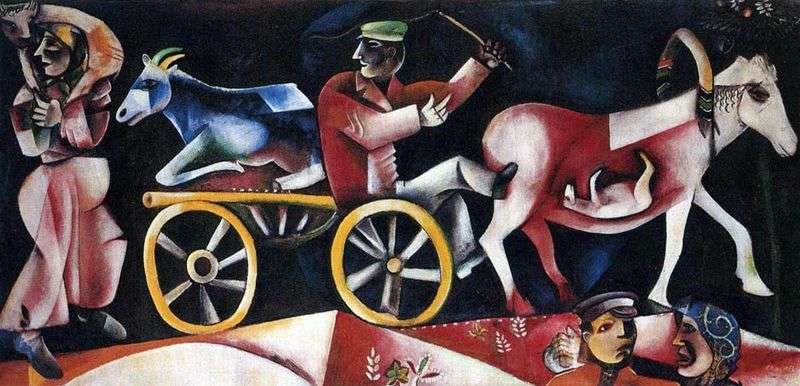 Mark had lived in Paris for two years, but he was still attracted to and excited by images-memories, coming from childhood and connected with his homeland. So, for example, the work "The seller of livestock" is filled with metaphors of pseudo-prosperous life of Russia. The canvas depicts a mare with a foal still unborn in the belly, carrying a cart.
On the cart there is a cow and the owner is sitting, and behind him is his wife with a lamb on his shoulders. The person carrying on the shoulders of a lamb is a traditional early Christian image that goes back to the good Shepherd – Christ. Heroes move forward, but at the same time tensely peer back, as if trying to discern their past lives.
All this monotonous composition is balanced by alternating verticals and contours. From previous works, performed in bright orange, yellow-green and red festive fairies, she is distinguished by the intense contrast of the dark background and purple-whitish flowers, through which the author interprets images of the characters, thereby integrating them into a single whole. The coloring of the picture convinces us that the prosperous life of Russians of that time was only an appearance. II only it seems that in the past someone was happy.