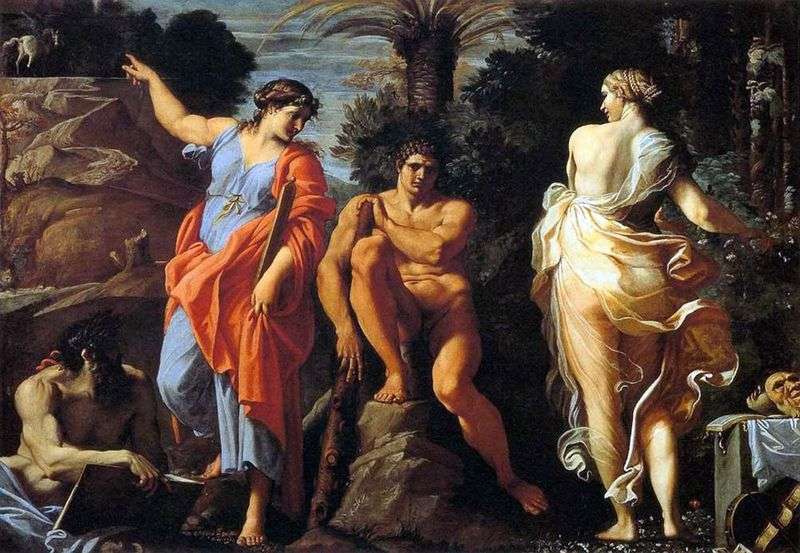 The epic plot of the picture "The Choice of Hercules" was written by the Italian artist Annibale Carracci under the influence of mythological tales about the glorious life of the demigod Alcides. The topic of the difficult choice of the right path in the life of the young hero still affected the work of many artists.
In Carrie's execution, the throwing scene turned out to be no less complete and meaningful in composition and a languid palette of colors. In the main story, the author put in the moment when the Viciousness and Virtue had already opened the cards to the youth, showing completely different roads. The legend to which the work is devoted, was born in the narrative of the Greek sophist Prodik, with retelling by Socrates himself and perpetuating on the papyrus Xenophon. The once told tale became an allegory of the eternal dilemma of man and entered modern life, as a metaphor for a complex choice of the right solution.
In artistic performance, what exists in prose is not so easy to convey. However, Annibale managed to express the complex scene and the emotional torments of the young Hercules is understandable and accessible. As in the palm of your hand are the "scales" of vice and good. The vice-nymph, as usual, is beautiful and pure. It is bare and barely covered with haze. Its attributes in this interpretation are masks, as the personification of deception and hypocrisy. As a rule, the road that offers to pass the Vice, has magnificent gardens, fields, valleys, it is straight without barriers.
The author did not aspire to such landscapes. But the tortuous, thorny path of Virtue painted very dark, narrow and rocky. The very same maiden of good has a very modest vestments. At her feet, the poet has settled down, which sings the Hero. It is known that Hercules chose the difficult path of testing. The canvas is still full of mystery solutions. The young man is thoughtful, beautiful and strong. His youth can play a cruel joke and direct along the road of joy and enjoyment, not doing good to friends, not honoring the gods.
The choice scene is overshadowed by the heavy palette of the picture. It is too dark, and sad. Details "crammed" with an abundance of shadows and halftones. Very large figures can hardly fit in the canvas area, the poet is cramped, and the landscape is farfetched. This is the author's vision, and the viewer is left to enjoy the work of the 16th-century author, imitator Rafael and Michelangelo.