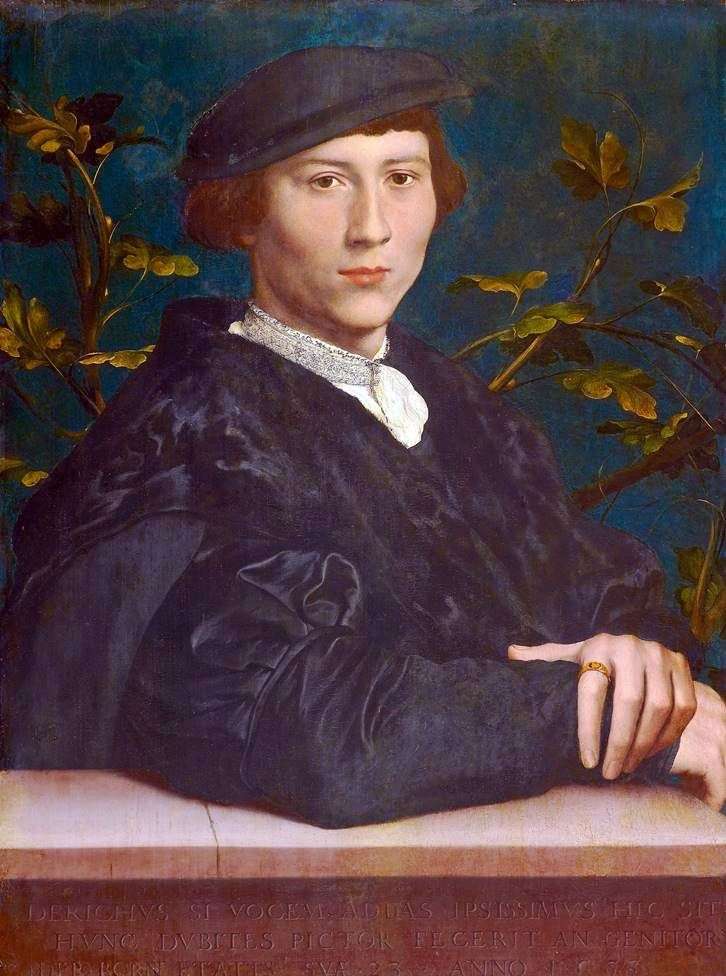 Many fine works Hans Holbein the Younger performed for the merchants of the London "Steel Yard", which was a branch of the Hansa – Association of German merchants, organized in the XIII century. In the time of Holbein, he had great political influence, in particular, on the king.
The portrait of the member of the "Steel Yard" of the young Derriche Born is executed so vividly that there is no claim to it – "If you supply it with a voice, it will be Deryck himself, and you will doubt whether his painter or parent created it." Holbein does not flatter himself and does not exaggerate the striking vitality of the image.
The artist skillfully portrayed intellectuality, calm confidence and self-esteem on the young face of merchant Derik Born, and a clever, looking at the viewer's view makes one feel the uncommonness of this person.
The portrait admires the skill of the artist Holbein the Younger, his ability to convey the liveliness, spontaneity, intelligence and energetic energy of the young merchant, who positively poses for the artist, is happy with business, enjoys living in this world and the feeling that after a posing session he will stand up vigorously, courteously bids farewell to the artist and famously rushes about his business, does not leave those who can not take their eyes away from this masterpiece of portraiture.
Here everything is so harmoniously, beautifully arranged, such an exquisite color scheme. The dark background on which the golden leaves are flashing does not merge with the dark velvet clothing of the young man. There are generally few colors, but many colors and shades, and the artist's divine gift with meager means to create such a bright and colorful portrait!