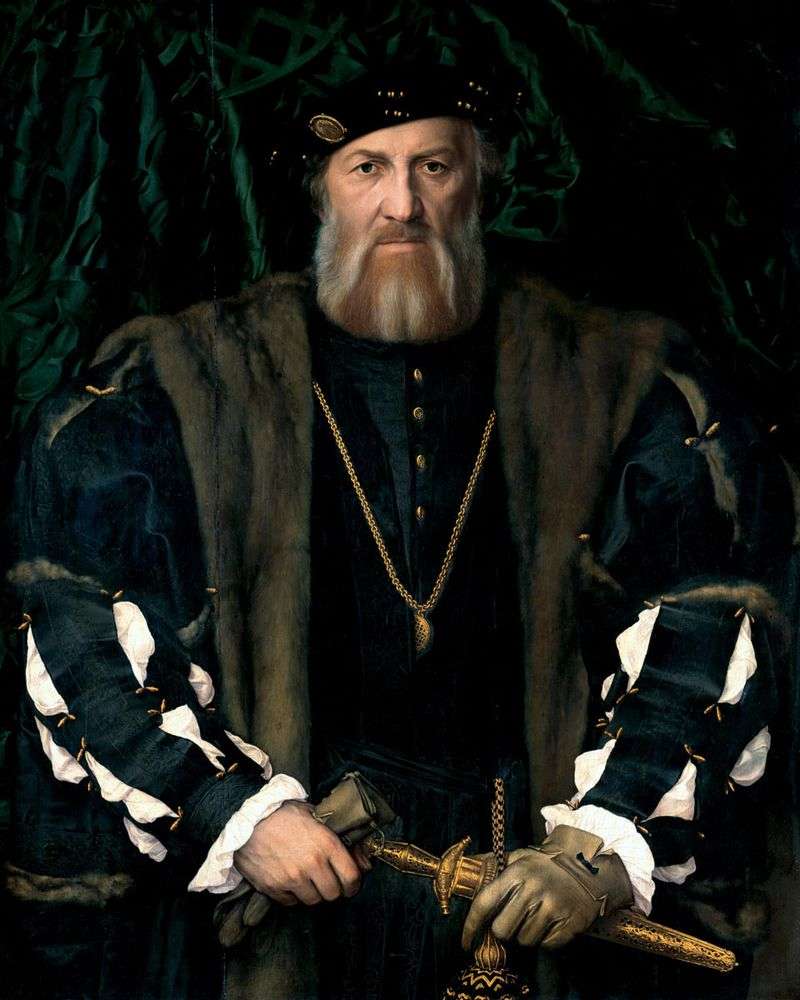 The French Ambassador Charles de Soller, Lord Moretta, was born in 1480 in Piedmont. In his youth he served at the court of Charles VIII, later became a courtier of Francis I. was an ambassador at the court of the English King Henry VIII. During this period, his portrait was painted by the court painter of the King Hans Holbein the Younger.
This picture has a strange fate. The portrait does not indicate the name of the author and the person depicted and this work was forgotten for centuries. When in the eighteenth century the painting was acquired by August III of Saxony, it was listed in his collection as a portrait of the ruler of Milan Ludovico Sforza, written by Leonardo da Vinci.
Only in the XIX century it was possible to identify the model in the portrait: it turned out that it was the French ambassador, and the artist was Hans Holbein the Younger.
The portrait of Charles de Soller by Lord Moretta of the French ambassador is a recognized masterpiece by Hans Holbein the Younger and world portrait painting in general. The artist painted this portrait in the period of creative maturity and flourishing of his talent. All the portraits of this period are characterized by a common humanistic outlook of Renaissance people.
The portrait of a French diplomat stands out even in the series of masterpieces by Holbein the Younger with his ability to convey the magical look of the smart eyes of a diplomat and a warrior. From the portrait there is a powerful impression, as from a meeting with a man conquering spiritual beauty and deep intellect.
The artistic merits of this picture are so high that it is difficult to list everything. We emphasize the main thing: the background of the picture is a black drapery, but even this color and rich fabric play and shimmer in the rays of the sun, which we do not see, but we feel strikingly in the brilliance of each fur villus, and in the gleams of the noble metals of chain and buttons, velvet jacket and dazzling white shirt sleeves in the sleeves slits emphasize a powerful color effect. And in reality there are only shades of noble brown black and white, but we feel the whole gamut, a holiday of colors and colors. And against this backdrop is the astonishingly wise and penetrating view of Charles de Soller of Lord Moretta.