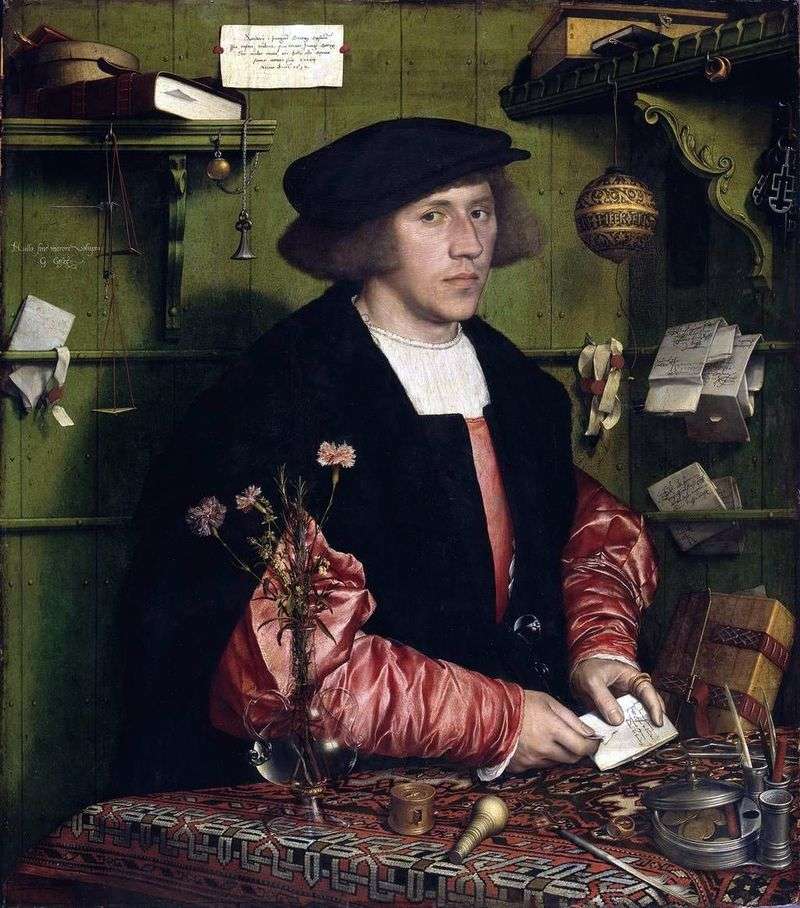 A recognized masterpiece of the English period of Hans Holbein's work is Portrait of merchant George Guissé. A young merchant sits at a table covered with an expensive oriental carpet. The artist in detail, thoroughly paints the situation of the office: wooden walls and shelves, books in expensive bindings and many different items needed in the work.
A bouquet of carnations in a vase of the finest Venetian glass indicates that the young merchant is the groom. The objects do not obscure the owner by their large number, on the contrary, they create an atmosphere of special activities and the image of a calm, confident person.
On a piece of paper attached to the wall, the artist inscribed: "The image that you see here has the features and look of George, such his eyes are alive, such are his cheeks." At the age of 34, in the year of the Lord 1532. " It was in the custom of the time for artists of the Northern Renaissance – to leave eloquent inscriptions and wishes.
The image of a young businessman, represented in the setting of his London office, is executed with genuine brilliance. In this portrait, the painter's talent for painting was fully revealed. Hans Holbein the Younger is a brilliant colorist who owns an exquisite palette, boldly combining bright, juicy tones with rich, reservedly strict deep dark colors.