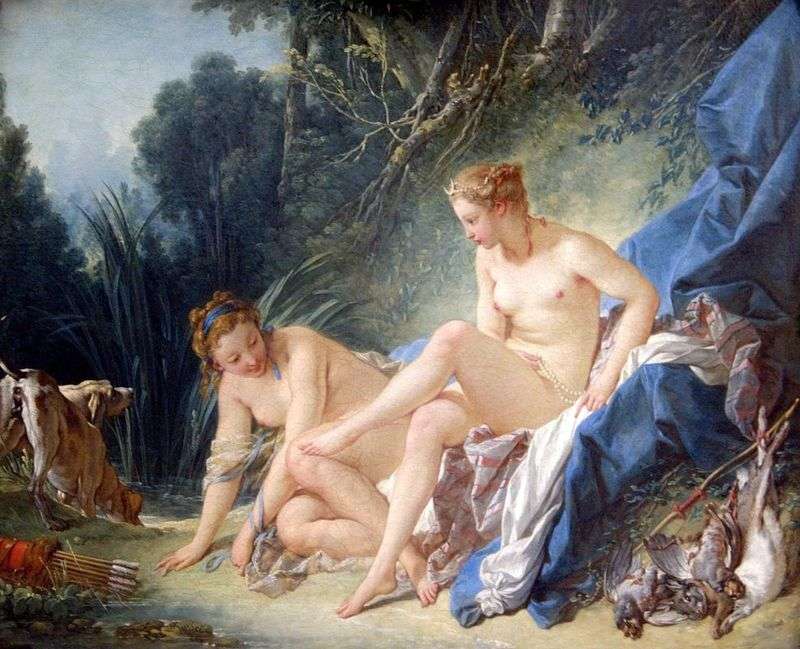 Boucher portrayed the virgin goddess Hunter Diana on the shore of a transparent stream. She left her quiver with arrows carelessly at a distance. In the foreground the viewer sees her bow and the "fruits of the labors" – two shot pigeons and a hare. The artist did not intend to deceive anyone: in the form of a goddess, he painted a completely earthly girl.
Mythology here is only a decent reason to turn to naked female nature. Despite the fact that Diana has always been considered a goddess severe, accustomed to the deprivation of hunting life, Boucher can not deny himself the pleasure of
writing it against the backdrop of luxurious draperies. With a gesture of odalasks, Diana rubs a string of pearls with gently pink puffy fingers. Her body is the body of the pampered favorite of some duke.
It is difficult to imagine that this elegant beauty could spend several hours chasing after the game. It is even more difficult to imagine that this Diana will set her dogs on the unfortunate Actaeon who accidentally saw her nakedness. Rather, he will open his arms to meet him. The unconstrained poses of the goddess and nymph, her faithful servant, testify to the skill of Boucher-Drawing.
Obviously, according to his temperament, Boucher could not be a master of historical painting. But it can not be said that the artist experienced any difficulties, working on complex, multi-composite compositions. Never had Bouchet such that some detail looked ridiculous, "pasted". The master always surprisingly adroitly "operated", for example, draperies and still lifes.
An example of a brilliant still life can be considered "still life with a bow, two pigeons and a hare," which the viewer can see in the picture "Bathing Diana." He is very skillfully inscribed in the composition of the picture, without losing himself on the general background, but also not obscuring the main plot. Pay attention also to the blue drapery, which, on the one hand, exquisitely contrasts with the delicate skin of Diana, and on the other – shades the blue wings of pigeons and gray hare fur.
A lucky one can be called a damp green background of the picture. It reminds the viewer of clear water, shady oak forests, evening coolness – a word that softens feelings, brings back pleasant memories and dreamy thoughts. Against this background, beautiful nude women look, perhaps, even more advantageous than they would look in the most lavish boudoir.