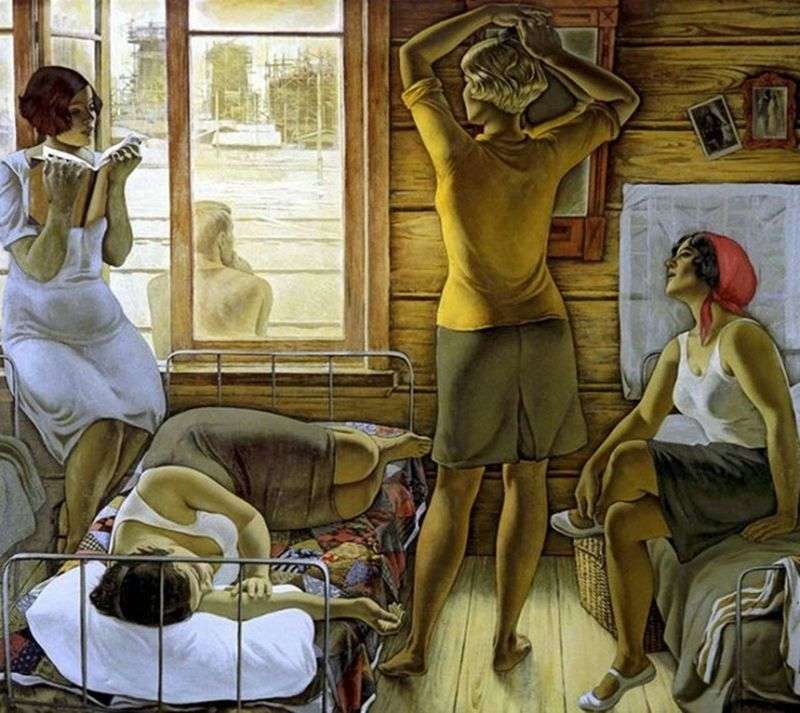 Yuri Raksha was a classic representative of the late socialist realism of the 60-70s. All his creativity is imbued with this spirit. But such a mother Yuri Raksha never knew. All her life she worked as a laborer in a local factory. Her youth had hungry war and post-war years. And by 1950, when my father finally returned from the front and the subsequent service, the mother became quite old.
The picture was conceived as a kind of lyrical dedication. Thirties, youth, heroism, the construction of Magnitogorsk. The artist did not find this time, but was able to feel it.
In the picture – part of a small room of a girl's dormitory, located in a wooden hut. Iron beds, one of which is covered with a patchwork village blanket, on the wall is a mirror, a few photos and a newspaper spread. Four girls. One of them is awaited by a man outside the window – to all appearances, a blonde woman who has her back to the viewer in the center of the room. According to the artist, it was important for him to convey the unity of spirit and physical beauty. The result was an unusual golden light in which girlish figures are "bathed".
This picture brought Yuri Raksha great fame. Went numerous exhibitions, publications in various magazines, after which the artist came bundles of letters. He himself admitted that the most expensive were the letters from his mom's peers, the builders of Magnitka, who recognized themselves and all the smallest details of life in the picture. Late socialist realism consisted in the most accurate and complete reflection of all such details.
The themes fully revealed in the picture – heroism, unity of physical and spiritual beauty, youth – the artist used in other canvases, such as Contemporaries and Continuation.