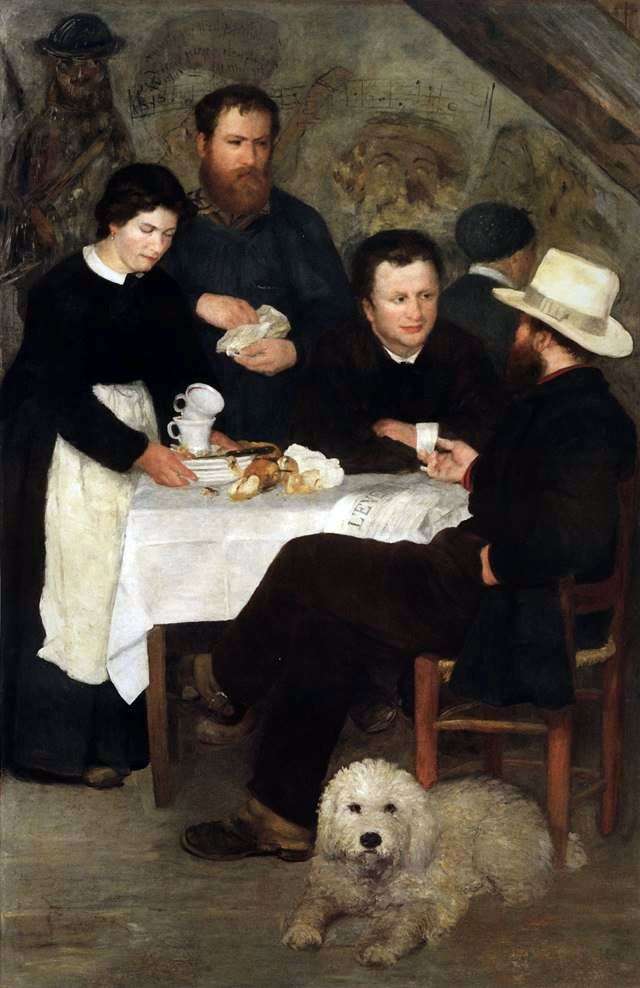 "After graduating from the School, on the happy days of youth, Sisley and Renoir spent a lot of time together, made the journey on the Seine. They wrote in the open-air in the suburbs of Paris: small squash were their islands of comfort and everyday life.
In one of such places, in Marlott, Renoir and Sisley settled, and here they were dining at Matushka Anthony's tavern. Here Renoir painted a picture that can be called a group portrait, – "Tavern of Mother Anthony".
The walls of this tavern were painted by artists whom the old mistress sheltered here. She is depicted by Renoir at the back of the stage. Poodle Toto took the forefront of the picture, and at the table Renoir wrote his friend Alfred Sisley. He leaned with his right hand on the table, where the number of the newspaper L'Evenman lay, in which Zola published passionate articles against the jury of the Salon and in defense of the new painting and new artists. The painting was painted under the explicit influence of G. Courbet, with numerous everyday details that attracted the artist's attention.
In the future, it will be more concise. The only loosely placed figure here is Sisley, who is half-turned from the audience, talking with another visitor.
In the relaxed pose of Sisley, a line of free compositional portraits is outlined, different from the then academic portrait compositions that Renoir will develop in another world-famous portrait of Sisley with his wife, written in 1868. "