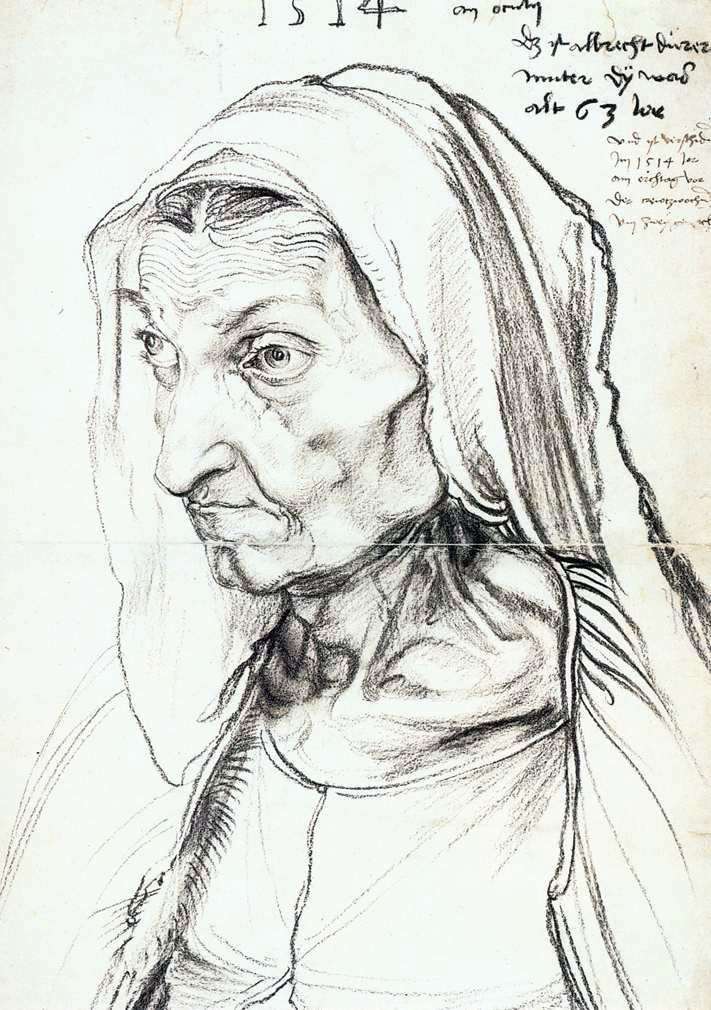 One day in the last year of his mother's life, endlessly painful, Durer painted her portrait. He worked with coal, he was in a hurry. It was hard to pose for Barbara for long. He drew it across his chest. A thin sweatshirt is thrown over the thin, dried body. In the cut of the shirt sharply protruded ribs, collarbones, sinewy neck. The face is covered with leather. Forehead in deep, sharp wrinkles. The mouth is compressed. It seems that Barbara tries to restrain moaning. The corners of the lips are sadly omitted. Big, staring eyes look past and through the son who paints her.
Durer works swiftly, hurriedly with sharp strokes. He is afraid of exhausting his mother, he is afraid that she will fall down while he paints it, and even he can not look at her face for a long time, it is clearly written that her days are numbered. Durer knows that the mother will certainly want to look at the drawing. Making coal lie? To soften what is traced on this face by a cutter of time and illnesses? When he draws, he does not know how to blame the soul. The drawing is finished. Mother silently stretches out her hand, looks at him, silently hugs her son. She knows: it's harder for him than for her. The drawing is preserved. He is a masterpiece of graphic art and one of the most heartfelt portraits in the history of graphics.
Portrait of Barbara Durer is tragic. This is a bitter and courageous story about the artist's mother. And about the artist, whose vocation makes him be keen and truthful even when tears cover his eyes, and sorrow grips his heart.