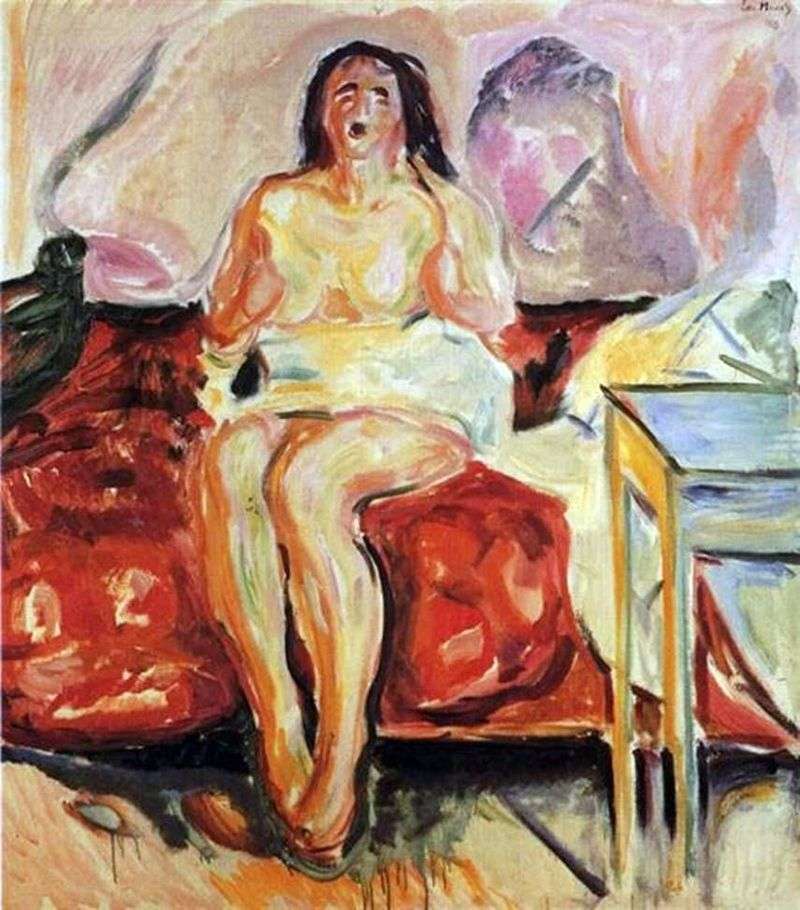 "Yawning Girl" – a picture of Edvard Munch, written in 1913. In her typical expressionist style, Munch depicts an almost nude woman sitting on the edge of her bed and ready to rise. Her mouth is wide open: she yawns after sleep. The left leg is slightly raised – this is either a desire to warm up, or an unconscious subconscious reflex.
The composition of the painting "Yawning Girl" is very similar to the composition of the early work of the artist "Ripening", written in 1894, but in many respects different from her mood. Fear, depicted as a huge shadow behind a girl sitting on a bed in a picture twenty years ago, was replaced by calm and relaxation. The shadows written by the author no longer pose threats or frighten the viewer or the main character of the canvas.
Nude models of this period of the artist's creativity are full of expression and sensuality. Edward Munck achieves this effect with a chaotic, rampant overlay of colors. According to some researchers of the works of the Norwegian artist, this makes his paintings related to the works of the Fauvists, especially those by Henri Matisse. The chaotic, restless color of the painting "Yawning Girl" is compensated by a solid composition of work that controls the entire image. As often happens in Munch, the composition is built at the intersection of the horizontal and vertical, forming a symbolic cross.
Of course, in the mood of the picture "Yawning Girl" there is nothing easy. As if at any moment her yawn can turn into a scream. The table depicted on the right side of the canvas not only emphasizes the compositional horizontal line: it recognizes the decoration of the room in the 1886 painting "The Sick Girl".