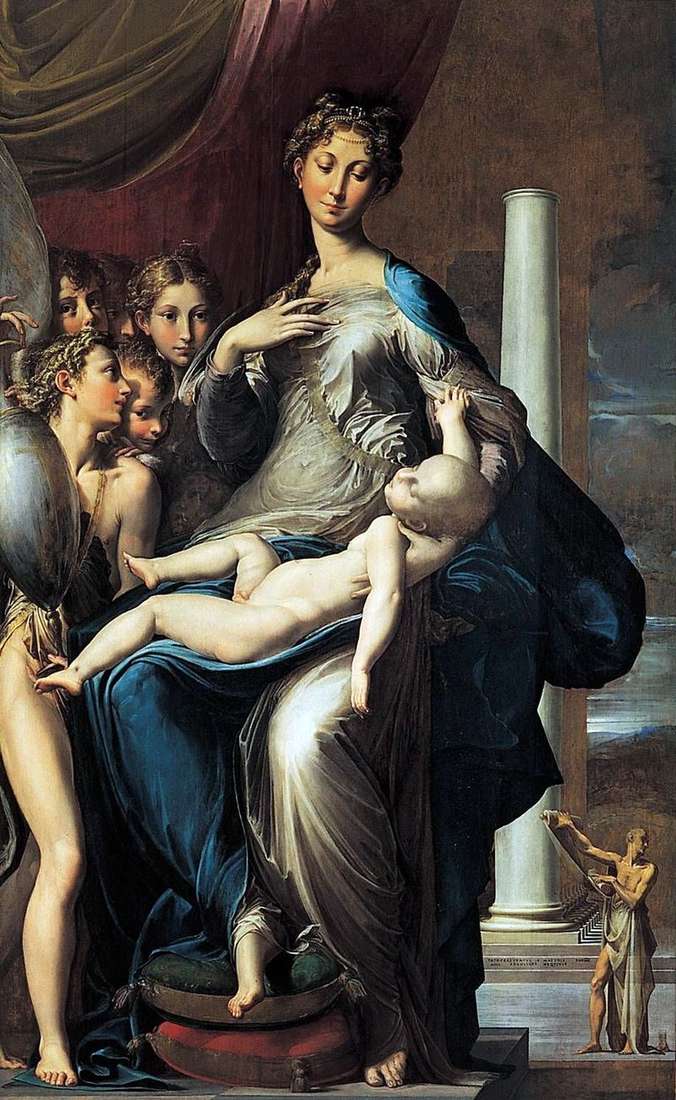 The image of mother and child is universal and is present in the symbolism of many religions. The Christian teaching put the artist before two tasks: to convey the virginal purity of Mary and at the same time her motherhood, and to clearly show that this is not an ordinary child, but the embodiment of a deity. The task of the Renaissance artists was to further develop this theme without losing the aura of divinity. Usually, the Virgin Mary sits on a throne surrounded by angels, and the Baby is depicted as a child of at least one year old, for whose childish appearance the mind clearly emerges.
"Madonna with a long neck" – a late work, which absorbed all the talents of Francesco Mazzuola. The story of motherhood in this picture gets a great pictorial interpretation. The depicted figures are graceful, draperies, laying down in deep folds are strict, as in sculptures.
Obviously the deliberate lengthening of the figures, the choice of the color palette and the elegance of the details are noteworthy, and the anxious faces of the group of angels resemble colored cameos. In the cultural centers of Italy with a conscious artistic policy, the courtly grace of Parmigianino becomes very honorable. Upon returning to Parma in 1531, the artist creates his most outstanding works.
September 23, 1534 Parmigianino receives an order for this painting from Elena Bayardi for her chapel in the church of Santa Maria dei Servi in Parma. The artist deliberately attaches Madonna, the Infant and the angels who are close to him with exaggeratedly extended features – hence the name attached to the picture. Inheriting from the artists of the XV century – such as Raphael and Perugino – static harmony, Francesco introduced movement and vibration into his compositions. This tendency is often called Mannerism, due to its conscious stylization and rejection of balanced proportions of Renaissance painting.
Despite the long, time-consuming work, the picture "Madonna and Child, Angels and St. Jerome" remained unfinished. Some preliminary sketches indicate that the artist was going to capture the right side of the composition of St. Jerome unfolding the papyrus, along with Saint Francis, from whose figure a barely marked foot image remained. The picture remained in the artist's studio for another two years after his death, after which, finally, she was taken to the Tagliaferri Chapel at her intended place.