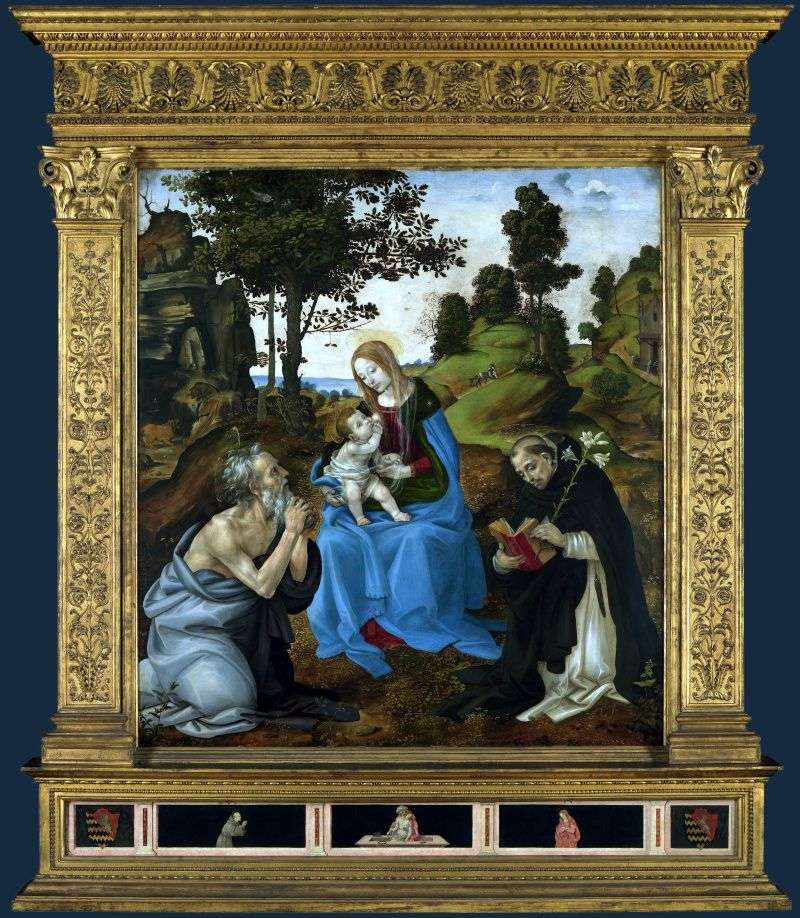 Filippino Lippi – Italian Renaissance painter, master of the Florentine school, a student of Sandro Botticelli, and some researchers consider his talent more powerful.
This altar was written for the funeral chapel of the Rucellai family in the new church of San Pancrazio in Florence, which belonged to the Wallbrosians, reformed Benedictine monks. The Virgin Mary, nursing the Infant Christ, is represented in the most ancient iconographic type "Virgo Lactans".
The image was an expression of the cult, which was distributed in the 16th century. in Italy. Saint Jerome, as a translator of the Bible, personifies theological scholarship; who lived in the desert and surrendered to repentance, he is depicted as a hermit.
Saint Dominic, the founder of the Dominican Order, is clothed in his clothes – a white tunic and shoulder strap under a long black cloak with a hood. He is holding a lily and a book. Details, seemingly inconspicuous and minor at first glance, have an important symbolic meaning. They constitute a certain scenery for the images of the main characters. So, in the background behind the Virgin Mary with the Baby, far away on the side of a hill, a figure on a donkey is depicted – this is, undoubtedly, the husband of Mary, Saint Joseph.
Saint Jerome is shown against the background of a cave, the entrance to which is guarded by a lion, its traditional attribute. On the right, behind St. Dominic, the almshouse building is depicted in the background – a hint of his merciful activity. All the numerous and diverse components important for the altar image are connected by the artist into a single harmonious whole, which makes this creation a masterpiece of Italian art of the 15th century.