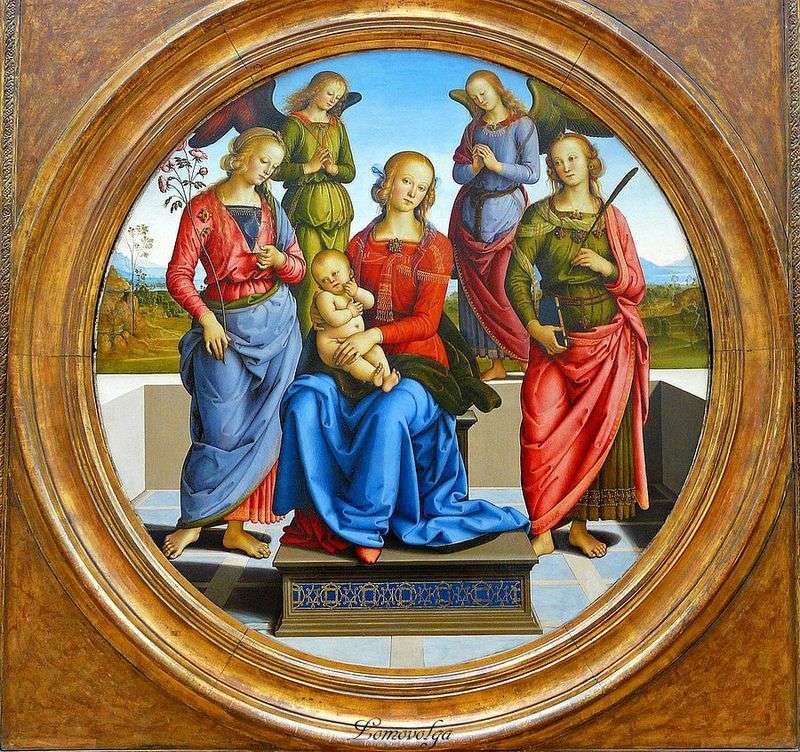 Vasari calls Perugino the inventor of a new manner of painting, characterized by a special "tenderness of colors" and so fascinating that "people come running like crazy to look at this unsurpassed beauty." His work seems to be the ideal of a serene balance of rhythms of architectural forms and open space, in which the characters coexist in harmony with each other. They are immersed in an atmosphere of peace, satisfied, even somewhat jaded with contemplation, and open to the feelings of a religious viewer. Perugino became famous for his thoughtful Madonnas.
The round picture "The Madonna and Child Surrounded by Angels, St. Roses and St. Catherine", which entered the Louvre collection in 1850, refers to the early period of the artist's work. It is written on a blackboard with tempera paints; after a trip to Venice in 1494, Perugino will begin to paint in oils.
In the picture there is a characteristic for the artist symmetrical construction of space. Pretty, as if sitting on the throne, with a melancholy sad expression, Madonna is the compositional center of the picture. It is surrounded on both sides by symmetrical figures of saints and angels.
The background of the painting is occupied by a finely defined landscape and also supports the symmetry of the images. From the image breathes deep peace, immersion in introspection. The whole picture seems drenched in golden light. Despite the fact that the colors of the clothes of saints and Madonna are quite diverse, the artist managed to achieve an amazing harmony in the combination of rich red, dark blue-green and light-purple tones.