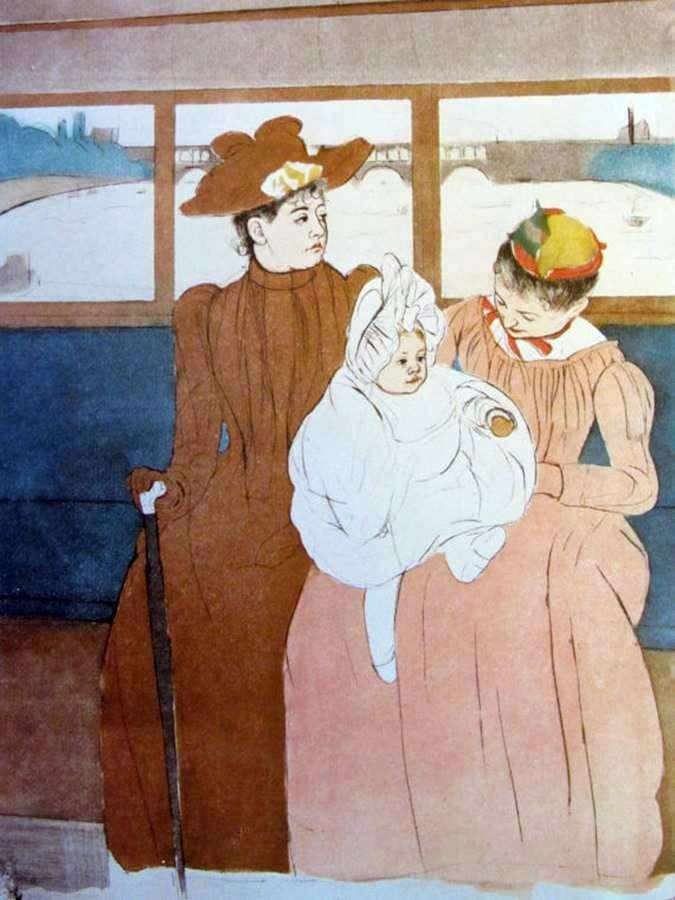 The graphics of Kassam are original and fresh. It remains to be regretted that the artist created too few works in this genre, where her craving for an orderly composition, "laconic" in detail and a wonderful sense of line, were so beautifully embodied. Seriously engaged in graphics Kassam began in 1871.
Being at this time in Parma, she took lessons from the Italian graphic artist Carlo Raymonda. However, they did not receive any visible embodiment. Only in 1879, Kassam decided to try her hand at the new genre – under the influence of Edgar Degas, who invited her to work with him on illustrations for the magazine "Day and Night." This magazine never came to light, but seven etchings, made by the artist for him, were shown at the fifth exhibition of the Impressionists in April 1880.
The bold contrast of black and white, characteristic of these etchings, anticipated the graphic experiments of the artists of the Nabi group and, in particular, the brilliant works of Bonnard. In the early 1890s, Mary Kassam again turned to the schedule and created a series of ten color etchings, which became the "nail" of the first personal exhibition of Kassam, held in April 1891 in the gallery of Durand-Ruel. In it, among other etchings, included the works "In Omnibus" and "Letter". It is easy to see that the entire series is made under the influence of Japanese masters – such as Utamaro and Hirosige.
Their engravings Kassam could see at the Paris exhibition of Japanese art, which turned the idea of Europeans about the art of the Far East. The etchings of the very heroine of our issue are distinguished by the boldness of color solutions, cleanliness and the ability to convey much by little means. Camille Pissarro, usually stingy at the laudatory epithets, called in his conversation with his son the graphic works of the artist "striking in tone, subtle, elegant, with no apparent technical errors, with surprising color."