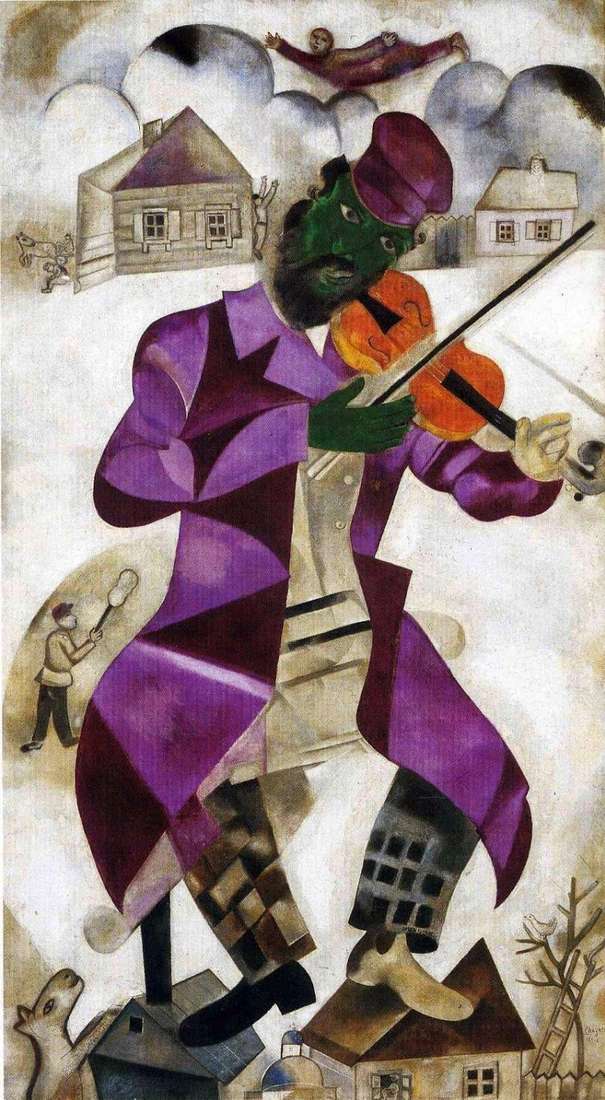 Chagall was forced to answer quite often why he often found a violinist dancing on the roof in his painting, while the artist unperturbedly asserted that this was by no means an allegory, but a reality. Like, he had an uncle who, when he ate compote, climbed onto the roof, so that no one could disturb him. However, seriously speaking, the musician who plays the violin in the work of Chagall is a stable and permanent leitmotif.
Critics tend to recall the Jewish origin of the author – a violin musician in traditional culture accompanies all stages of the life of the Jewish family, although others treat the green violinist as more ephemeral as a symbol of human rebirth through art. Anyway, the presented work is one of the most significant, especially on composition: it is a complex polyphony, where different plans, images and plots merge together. The main character stands out not only for his size, but also for the color solution – a green face, dark blue hair and a beard, a bright yellow-red violin in his hands. Two young men look at him fascinated.
A colorful musician who starts dancing, distracts the viewer from the background, and in the meantime, too, amazing things are unfolding – Chagall presented all the shifts of the year, from the green summer to the snowy winter. Everything in this work is worthy of the epithet "too" – too saturated colors, too unusual plot, too colorful character, but this is the main strength of the picture, its dynamics and powerful energy.