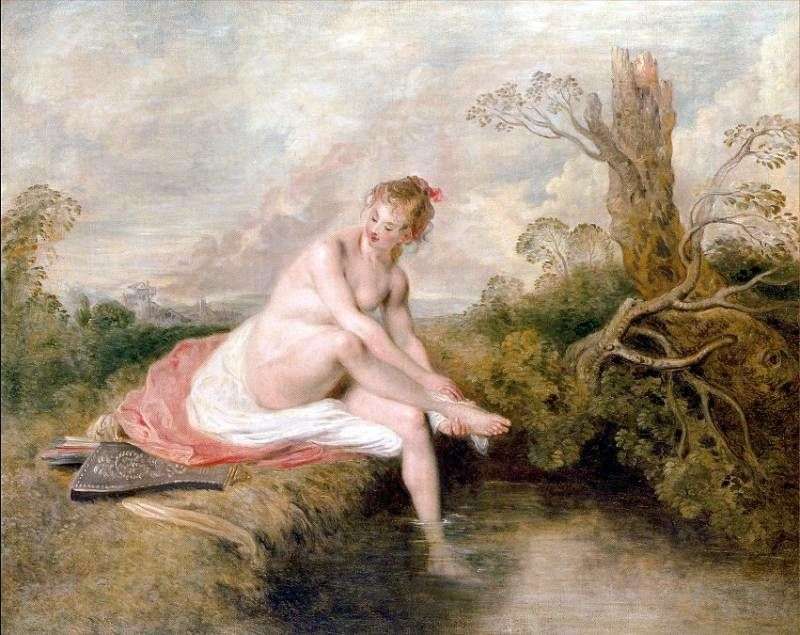 Painting of the French painter Antoine Watteau "Diana by the stream". The size of the picture is 80 x 101 cm, canvas, oil. From 1702 on his arrival in Paris, the young Watteau worked as an apprentice in the picturesque workshop of the famous Marchant Mariette on the Notre Dame bridge; approximately in 1704-1705 he became a pupil of the famous painter – decorator Claude Gillo, who also wrote scenes from the life of actors.
From 1707-1708 he worked for Claude Odran, a wood carver. Thanks to the engraver Odran, acting as the curator of the picturesque collection of the Luxembourg Palace, Watteau got acquainted with a series of Rubens paintings devoted to the history of Maria Medici, the works of Flemish and Dutch masters, which had a strong impact on the technique and color of his works.
Painting by Antoine Watto "Diana at the stream" is a kind of tribute to the artist Peter Paul Rubens, who created many paintings of mythological themes. Watteau himself was not keen on writing paintings on mythological subjects. Perhaps the paintings "Diana at the creek" and "Jupiter and Antioop" or "Satyr and sleeping nymph" are the best works of the artist Watteau in this genre.