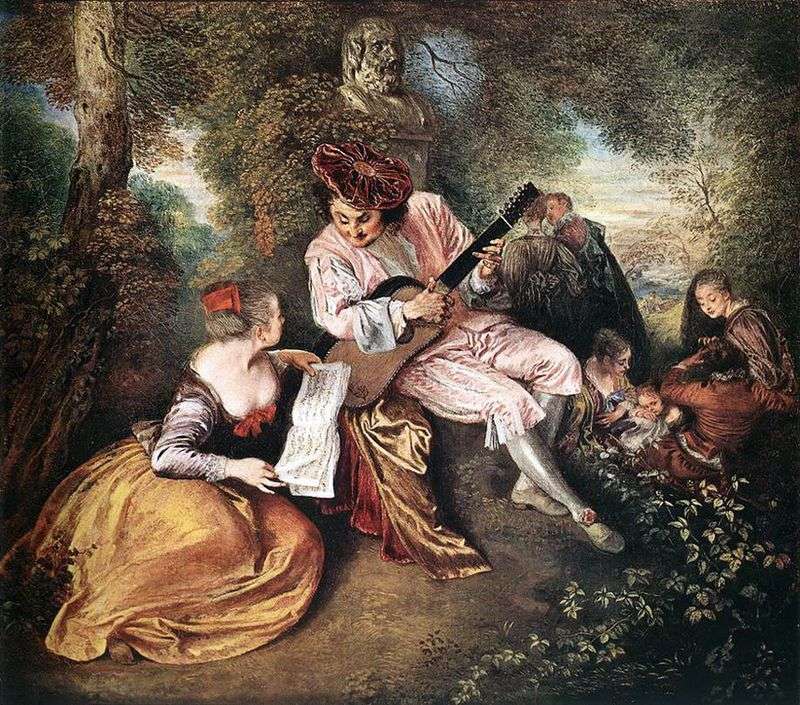 Painting of the French painter Antoine Watteau "Love Gamma." The size of the picture is 51 x 59 cm, canvas, oil. The painting is also known as "Song of Love" or "Love Aria". This painting was one of the works of the artist, from which after the death of Watteau were made engravings by master Le Bas.
Later these engravings were included in the collection of Watteau's works, which was published by the artist's friend and his former patron Jean de Julienne in 1736. Watteau's drawings for this painting are also preserved and are in the British Museum.
The composition of the picture is based on the image of the guitarist's relationship in a bright color theatrical costume and a girl. The main center of the picture is shifted to the figure and to the feet of the musician, the composition of the diagonal unfolds from the girl's feet through the sheet music to the top of the guitar's neck.
The marble bust of the bearded philosopher, located above the musician, can mean an attempt to attract the artist as an allegory of the philosophical concept of "yearning for the spirit". In the background of the picture, on the right, Watteau portrayed people engaged in their own concerns and not paying any attention to the main characters of the canvas of the French painter.