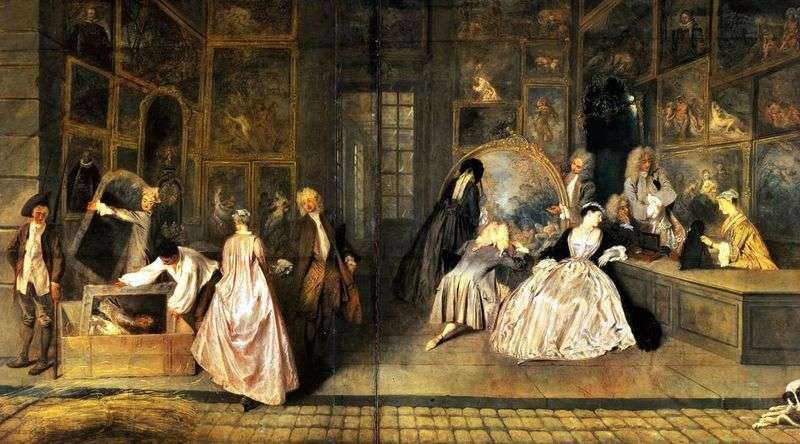 It is commonly believed that this sign was painted by Antoine Watteau at the beginning of 1721 for a reseller of Gersen's paintings. This is the most ambitious of the artist's works, and initially it was even more, as it was crowned by a semicircular arch, designed to fill with itself all the free space above the entrance to the bench of Gersen. The plot of "The Sign of Gersen" is strikingly different from the scenes of the artist's previous paintings.
Before the viewer's view, a certain imaginary action takes place in the shop, the walls of which are hung from floor to ceiling with paintings put up for sale.
Attention of visitors of the shop is riveted to an oval picture with nude figures depicted on it in frivolous poses. An up-to-date detail: the employees of Gersen are packed in a box with a portrait of the late deceased King Louis XIV. It must be carried away from the store – after all, hardly anyone will want to buy a portrait of the late king.
A young lady who stopped to look at the way the portrait of the monarch is being cleaned into a box, the gentleman inviting to go to the place where the whole audience gathered – to the already mentioned oval picture.
Gersen said that Watteau's signboard took up writing solely in order to "stretch his fingers after England," and finished it in a week. And actually the signboard of Gersen's shop, it served even less – in a few days one of the customers of the second-hand seller expressed a desire to acquire it.