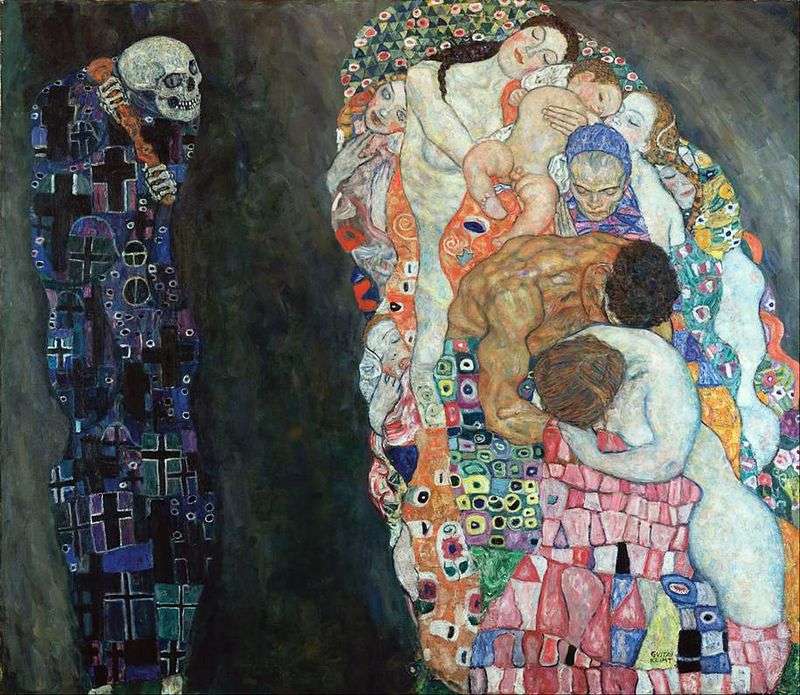 The allegorical painting "The Life and Death" written by leading modernist 1900th years Austria, Gustav Klimt. Given that his work has erotic overtones, thanks to the interest of the author to the naked body and warped perception of male and female relationships, this picture stands out from the total mass of the sad theme.
Life and death are so clear and readable in the picture that do not require detailed analysis. However, it makes sense to focus the viewer's attention on some of the details the technical performance of the work. As usual, Klimt verbose in paints. Here, thousands of colors and shades, to take at least a male body with brown ink body, as if washed by rain, asphalt, these fabrics with an ornament, raznotsvete crosses Stole Death.
An interesting arrangement of characters – a lonely thin sexless creature with a skull – Death and the warm mass of living bodies piled on top of each other in a single unit from a baby to an old woman, barely alive, but still real.
Interesting patchwork quilt, assembled from red diamond, triangles and drops. Small drawing the author gives his meticulousness and explains the long writing pattern. Notice how the paint is put – somewhere smoothly with continuous filling one color to another spot , where a clear contrast residence permit. In this letter Klimt soft and sharp at the same time gets in a single canvas.
Intriguing artist's idea of the number of lives. This number is seven. Who knows whether it is due to the courier depicting people in an amount of the divine, or is it just a coincidence, but something mystical in it. Is not it? Perhaps, in the form of seven bodies veiled the very major sins , which refers to Catholic theology. Of course, the very embodiment of punishment – it is something with a skull and a rod in his bony fingers, with a mass of crosses and strange circular marks resembling scarabs.
Given the gloomy mood of the picture, it is difficult to imagine life in the home interior. This is clearly a museum piece or collector's masterpiece. The web gives circumferential cold and gloomy thoughts about the impermanence of life and the end of that yesterday we called heartbeat. Klimt, a psychologist or a philosopher, is not set up the main focus of his work. He longed sadness and awe from the flat image, wanted to make more three-dimensional perception, thoughts sadden those who are willing to die to sin and self.