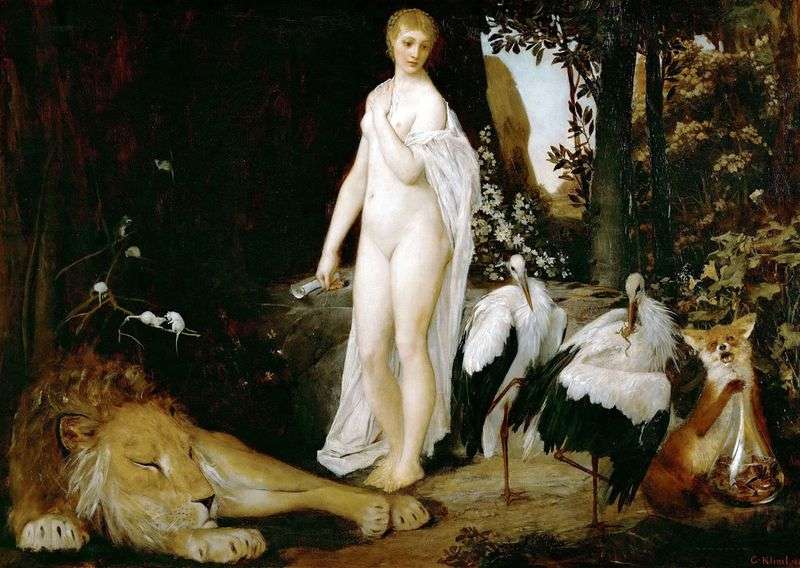 Austrian painter Gustav Klimt is considered one of the first who glorified and "introduced" the Art Nouveau style into Austrian painting. Despite the dryness of the letter and originality, Klimt is credited with a special attitude to the female body and everything related to female eroticism.
So, the picture "Fable", seemingly absolutely harmless work, was created by the author at the age of 21, but already had a hidden implication. A warm and lullaby name suggests the same story. Yes, there are heroes here – representatives of the classic narrative: fatted storks, a dense sleeping lion, a disheveled fox with a bulb, a mouse fry on thin branches. Such a meeting can illustrate any fable of Aesop or even Ivan Krylov.
However, the image of a young woman is confusing and captivates the look and thoughts, leading the viewer away from the idea of the picture. "Fable" or "Fairy Tale" was written by Gustav Klimt at a time when his paintings were still breathing classical school of painting. Therefore, the colors, heat, and degree of contrast, so close to the Caravaggian manner of writing, are alive in it.
Brass – bistrovye shades mixed with the honey palette gave the picture the emotions characteristic of baroque subjects. No one could have thought that the author's "golden" period would be far from the "Fable". What did Klimt want to tell in his painting? It is a collection of characters from different tales, no specifics. However, the girl, perhaps, is the fable itself – a fairy tale, as her avatar? Such a technique is often used by fabulists in comic works.
The fable-woman Gustav is pretty and does not ridicule vices. Transparent half-naked body hints at naked and not hidden human vices, ridiculed in the literature. The scroll of paper in her hand is already written, but the text is hidden and not read. But soon, just about, the letters will merge into harmonious couplets, and the writer will publish his fairy tale. The picture "Fable" is laconic and fantastic, unusual by a set of characters and only by the author with clear accents. It can be read as well as any text, catch a hint, guess and admire the paintings of Klimt, still understandable, yet young, but already famous.