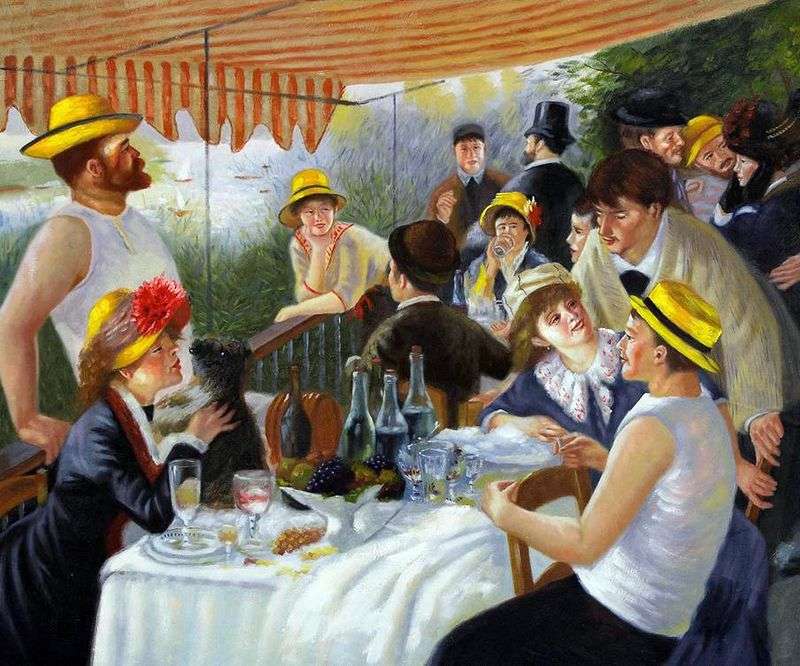 This picture can be rightfully called a group portrait. In contrast to the "Ball at the Moulin de la Galette" here to enlarge the scale of the figures, they are recognizable portrait and constitute the main content of the picture. The landscape that surrounds the terrace, which gathered friends around the greens, rising above the Seine through it with sailboats and boats running up the atmosphere of the picture, her joyful background.
The place of writing big picture "Breakfast rowers" was the Fournaise restaurant in Chatou near Paris on an island on the river Seine. This trendy place is usually met and spent time artists, poets, actors and other representatives of the advanced part of society; reason to meet here was fashionable while boating hobby. On the canvas there is a free and lively atmosphere that occurs in the company of happy people who left for the city to relax.
Although modern in content, the painting "Luncheon of the Boating" at the same time clearly resonates with paintings of old masters, which depicts a feast.. The picture conveys a sense of the volatility of the artist caught the moment, however, this impression disappears for a great work of Renoir, which line up on the track for months. All characters pose for a picture the artist, individually arriving in Chatou.
The web can be attributed to the genre of the group portrait.
An interesting point is that in this picture , we see a young and beautiful girl Alina Sherig, just at the time when the artist linked with her life.. She is depicted in the foreground of the picture to the left, holding the dog in her arms. The artist depicted in the picture and himself – he stands behind his lover, leaning on the railing terraces hands.
More on painting depicts a collector and amateur painter Caillebotte , much helped the Impressionists and a large collection of their works, which then bequeathed to the Louvre; Friend Renoir Italian journalist Madzhiolo Baron Barbier Lestrenge Jeanne Samari, Efryussi, Lot and naturschitsa Angèle restaurant owner and children Alfonsín and Alphonse Fournaise.
Beautiful, full of joyful colors painting "Luncheon of the Boating" as well as possible corresponds to the happiest moment in the artist's life, when he was the prime of life, and the middle of his life and career.