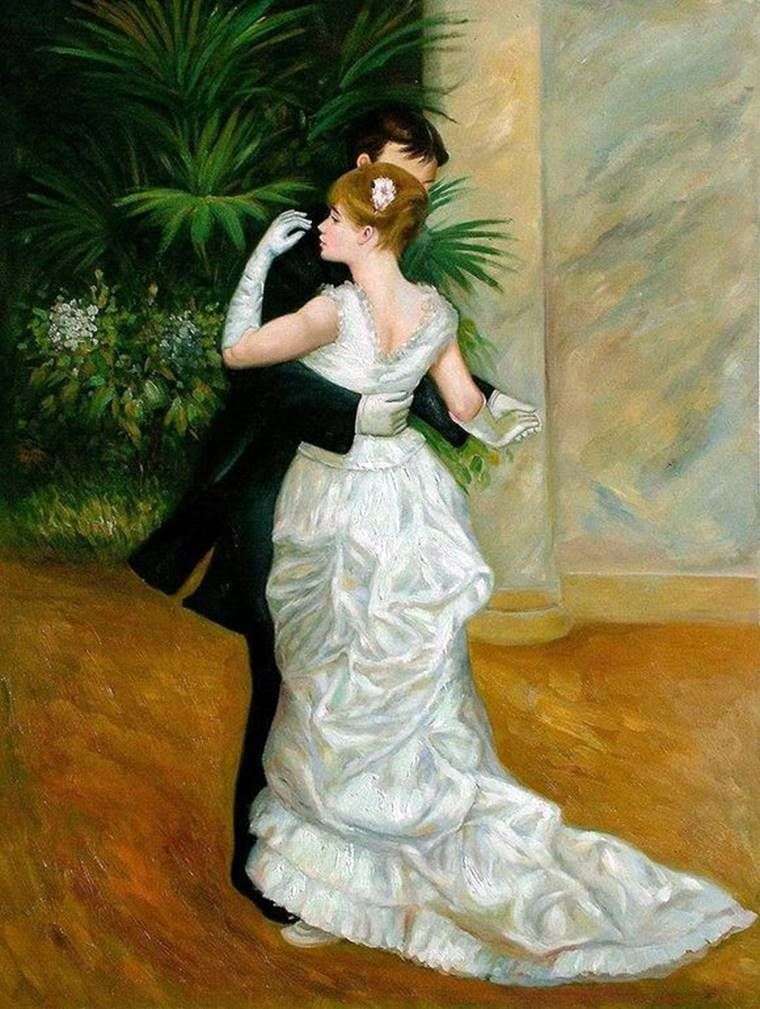 The painting "Dance in the City" was painted by Pierre Renoir in 1883 by order of Paul Duraine-Ruel. His order to the artist consisted of three paintings, which depicted dancing couples. The artist took such a proposal with great interest, he was already well acquainted with this topic. But this time, Renoir decided to create slightly unusual paintings, all of them dancing looked completely different, but it was the same pair.
The painter created an interesting game of images, moving the dancing couple between Paris, Bougival and the village. In each of these places the dancers were completely transformed.
The painting "Dance in the City" depicts a woman and a man full of elegance, who merged in a dance in the middle of a bright and rich hall. The man is wearing a popular black coat. Sensually, he holds his partner by the waist with a strong hand dressed in a white glove. A man carefully presses the lady to him, surrounding her with his attention.
The dancing woman has a beautiful figure, which is beautifully emphasized by the rich beautiful dress that fits perfectly on her. The dress gives an already fragile girl, as seen by the bend of her back in the hands of a strong man, lightness. Highly collected ladies hair opens the view of the view of her back and neck with snow-white skin. The dancer is endowed with extraordinary beauty, her features are excellent. You can also conclude that she dances very well, if you look at the position of her hands.
For these paintings, Renoir posed one of his close friends, whose face is hidden on all canvases, which makes a great emphasis on the appearance of the girl, the image of which the artist wrote with his favorite model, Marie-Clementine Valadon. This girl was inspired by the works of Renoir, and eventually she also found a talent in herself. A few years after posing for this canvas, she moved into painting and found her vocation on the other side of the easel, becoming a famous artist under the pseudonym Suzanne Valadon. Her talent was also transferred to her son, Maurice Utrillo.