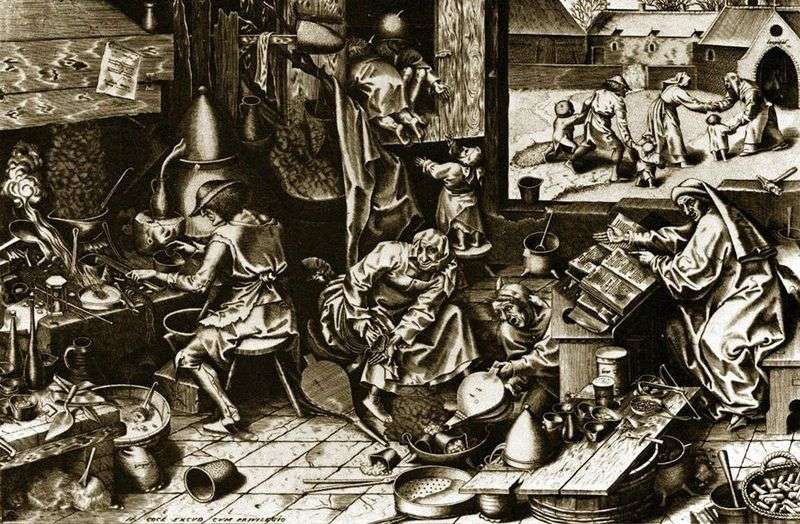 In 1555, the leading Antwerp print publishing publisher Hieronymus Kok produced a series of landscape engravings by Brueghel; their joint cooperation continued until the artist's death. In the same years, the workshop of Koka printed engravings from the paintings of Hieronymus Bosch; his phantasmagoric visions, the coded language of allegories, the picturesque manner, probably struck Brueghel, such moralistic diptychs of Bosch as "The Garden of Earthly Delights" or "Voznesen" became Bruegel's inspiration for a whole series of his engravings and paintings. Engraving of the artist Peter Bruegel "Alchemist" in its basis has not only ironic traits.
Alchemy in the days of Brueghel was widely practiced. Alchemy was taught by prominent scholars of the Middle Ages and the Renaissance, such as Albert the Great, Raymond Lully, Roger Bacon, Arnaldo de Villanova, Jean de Men, Flamel, Bernard Trevisan, Paracelsus, Saint-Germain and others. Mystical currents in European alchemy occupied a very important place.
Mysticism and the closed nature of European alchemy naturally gave rise to a considerable number of swindlers from alchemy. The artist Peter Bruegel in engraving in an ironic manner portrayed an alchemist who creates in his retort a model of the world and world-building processes, sets himself the task of reproduction and spiritualization of the cosmos, proceeds from the idea of the substantial unity of the world and the universality of change.