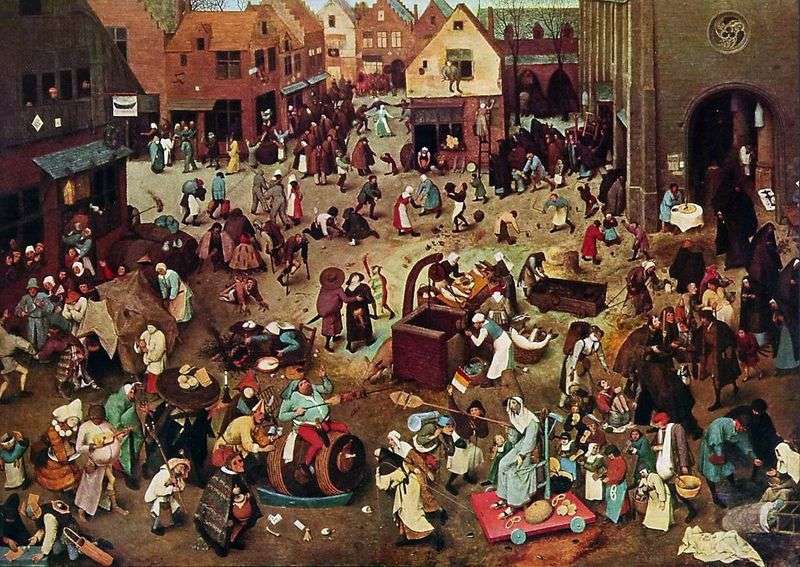 The painting of Peter Bruegel "Carnival and Fast" has a direct relationship to the theatrical genre of farce. The essence of the plot of the picture is the confrontation between Carnival and Fasting, embodying Good and Evil, Faith and Unbelief, Abstinence and Dissemination. The new stage in the art of Bruegel begins in 1559, when he created the painting "Carnival and Fast", representing the area of the Flemish town, all infested with small fussy, mobile figures of mummers, beggars, revelers, monks and merchants. There is nothing fixed here: people scurry between houses, leave the door and look out of the windows, carry something, hold, stretch or simply wave their hands.
The artist in the film "Carnival and Fast" creates a comprehensive scene of folk fun. Instead of boundless, absorbed in themselves people, indifferent to them and eternal landscapes appeared a boiling, noisy human element. Realizing the cosmic immensity of the world, he felt and another cosmic – human, human masses. It must be said that for this time in general, a direct comparison of human society to natural phenomena and back is typical. In this respect, Peter Brueghel's world view was not an exception.
In the artist's view, human society is like an anthill. And although Bruegel finds true beauty in him, his little heroes are as busy as they are insignificant, as vital as grotesque – between the human face and the mask of the carnival buffoon, the difference sometimes does not exist. A cheerful extravaganza of the festival brings to mind thoughts that are not devoid of bitterness or irony. At the same time, it is significant that Peter Bruegel the Elder personifies his idea of humanity as a majestic multitude of negligibly small quantities on the example of the elements of urban, people's life.