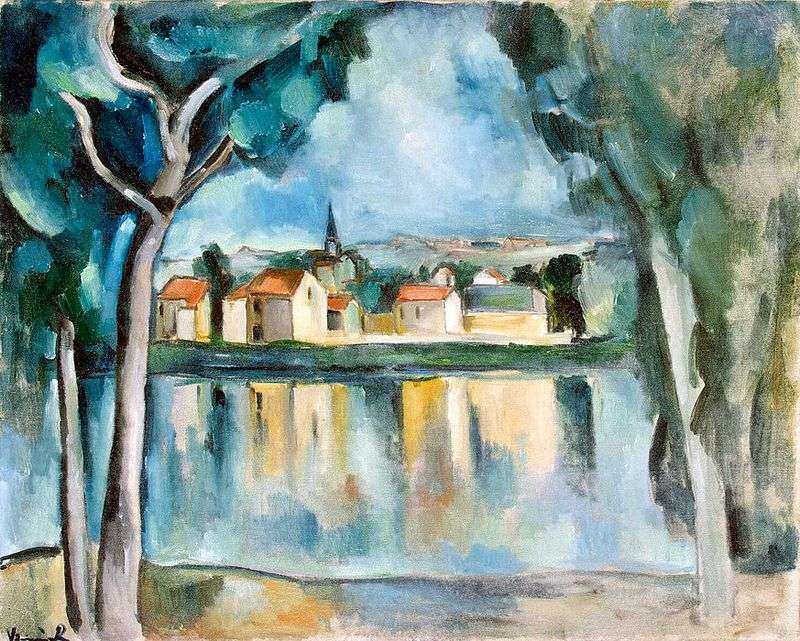 Maurice de Vlaminck studied painting himself, he did not receive a special art education. His creation as an artist was decisively influenced by the work of Van Gogh. Since 1900, Vlaminck worked extensively in the open air with A. Derain in Chatou.
"School Shatu" and artists of the Matisse circle together presented their works in the Autumn Salon of 1905, which marked the birth of "Fauvism" – a direction that organically met the aspirations of Vlaminck.
The artist was fond of painting by P. Cezanne, in the 1910's, his works displayed romantic features. In 1925 the artist purchased the house of La Turiller in Rueil la Gadeler, where he remained until the end of his days. His later works – landscapes are fanned with a sense of mystery, drama and anxiety, which brings the master's works closer to the works of expressionists.
Landscape "Town on the shore of the lake" was performed by the master at a time when in his works the intensity of color reached a maximum degree. The structure of his works was completely built on the basis of color, transformed into decorative planes, forming long-term plans and setting the rhythm of space. Other famous works: "Houses in Chatou." 1904. The Art Institute, Chicago; "Barki in the manger". The Pushkin Museum. A. S. Pushkin, Moscow; "Winter landscape". OK. 1913. Museum of Contemporary Art, New York.