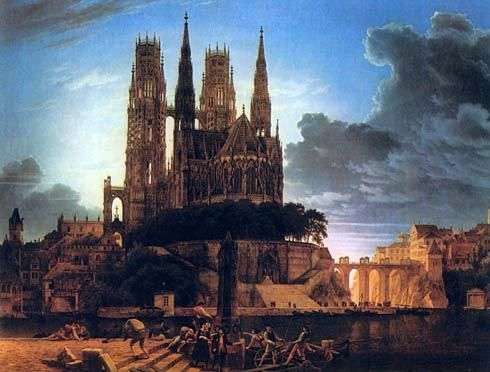 In the history of German art of the XIX century. Karl Schinkel came in as the greatest master of classicism, his talent found expression in painting, graphics, scenography, architecture. Schinkel studied at the Berlin Academy of Architecture with F. Gilly.
His first creative work was connected with graphics and painting. He painted landscapes and paintings on mythological themes, being under the charm of the ideas of early German Romanticism. Since 1810 the master has worked primarily as an architect. "Gothic Cathedral on the shore" – a picture that was written during the period of Shinkel's work on his first architectural projects, sustained in the strict rules of classicism.
The romantic landscape with the mysterious building of the medieval cathedral is not accidental in the creative heritage of the master of this period. The romantic love for the Middle Ages was fueled by the creative powers of the artist, and in the 1820s he created a series of architectural projects in the spirit of neo-Gothic. Other famous works: Werder Church in Berlin. 1825-1828; The Drama Theater in Berlin. 1818-1821; Building Academy in Berlin. 1831-1835.