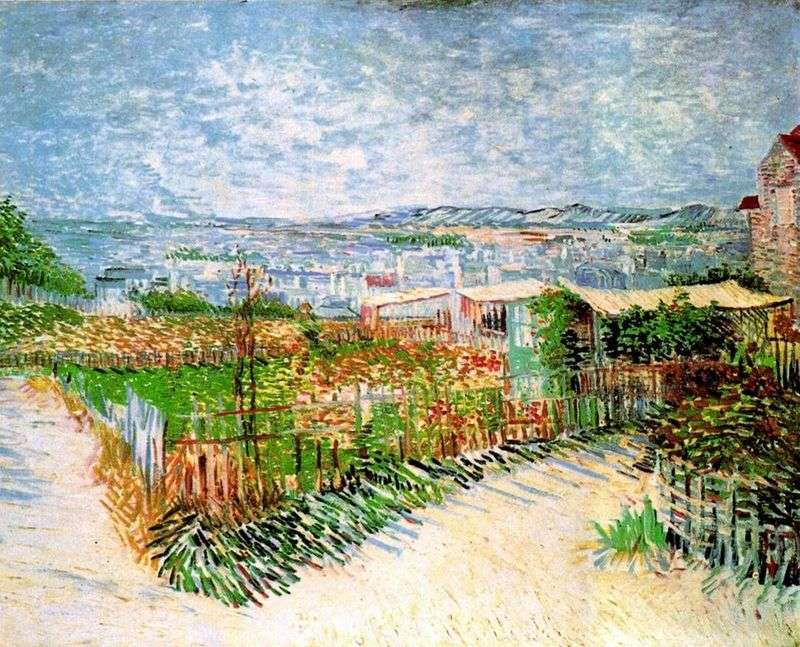 This picture of the gardens in Montmartre in 1888 was exhibited in the so-called "Salon of Independent" – an exhibition of young artists who questioned the classical canons of painting. By that time the artist himself had already lived in Arles. The landscapes of Montmartre performed by Van Gogh were favorably received by the public. For example, the writer-symbolist Gustav Kahn, a friend of Sulfur and Signac, in an article for the magazine "Revue Andepan-dant" noted that Van Gogh's brush has a big power.
Indeed, Van Gogh easily and quickly, with the help of light brush
touches creates an amazing landscape in its expressiveness. The sky shimmers with shades of bluish-gray colors, which easily convey the subtleties of lighting, gave as if drowning in a blue haze. The foreground, with a picture of the garden vegetation, surrounded by trampled paths, is filled with a light and fragmented mosaic of red-ocherous, yellow, blue and green strokes.
Van Gogh chose for the painting a canvas of unusually large size, its height was 100 centimeters. The artist knew that such large paintings are almost not sold, but he hoped that the size would make the viewer pay attention to it and understand that the work is full of light and joy.