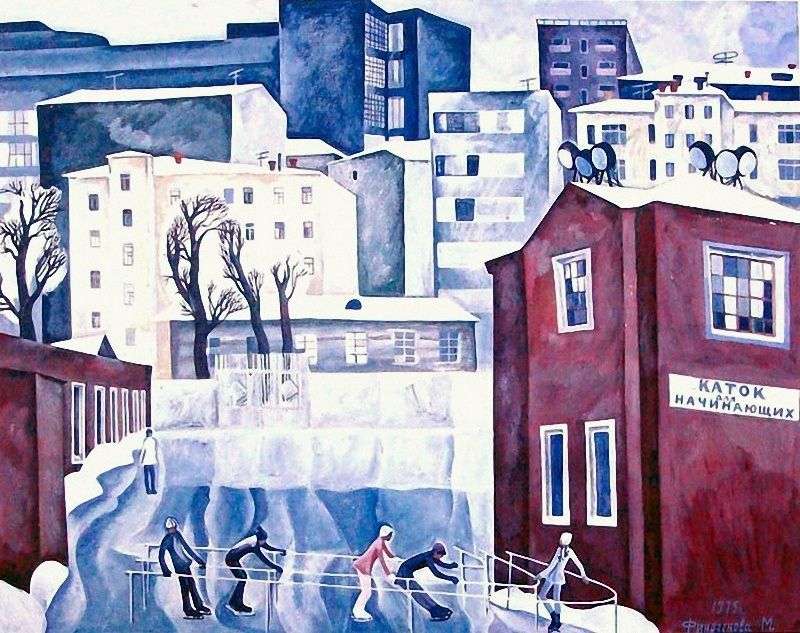 Mlada Konstantinovna Finogenova is a well-deserved Russian artist. Her pen belongs to very beautiful and life pictures. It is to such creations that its canvas "Skating rink for beginners" can be attributed.
Who does not like winter. Its frosts, the first snow that circulates in the sun's rays, playing a rainbow, snowballs, red cheeks and much more. Many children look forward to it as soon as possible to run on slippery ice, play hockey, rub each other with snow. In a more modern world, there has already appeared such an attraction as figure skating. Entire complexes and lessons are opened for this kind of sport. But what if you do not have the opportunity, not the necessary skills to enroll in such lessons. And then our cold winter comes to the rescue. It will make such a rink on any lake that all complexes envy. Just grab your skates, your friend's arm and forward. It was such a skating rink for beginners and presented to our attention Mlada Finogenova.
In the picture we see an ordinary city, wrapped in a cool winter. Multi-storey houses are covered with snow, bare trees sleep in the middle of the streets and only a crowd of young people are riding rainbowly on frozen water. Good people made handrails so that the most inexperienced could restrain themselves on their feet and not fall, thereby giving rise to a loud laugh.
Looking at the picture, we see sharp sharp lines, no smooth transitions or images of details. It would seem that everything is realistic, but at the same time there is nothing real. Such modern art is called avant-garde. This is the departure from the material world in the sensual, emotional. In such pictures, not the drawing itself is transmitted, but the mood with which it was written.
Judging by the picture "A skating rink for beginners", the mental state of M. K. Finogenova answered the time of the year. The mood was the same as winter, clean and cold. No kind of warm feelings and emotions looking at the picture, does not arise.