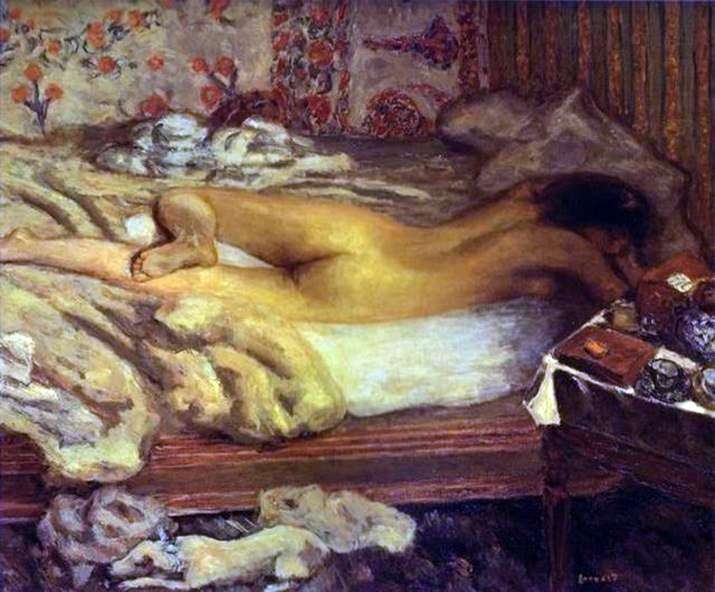 Niu Bonnard look like a declaration of love. His model and companion Martha grew old, but in the paintings of the artist remained young. Such as can only be a beloved woman. During many years of his life with Marta, Bonnard created a whole series of amazing intimate scenes, in which there is passion, and tenderness, and a quivering poetic feeling.
An endless number of times Bonnard wrote to Martha – and every time in his recognition of love, new shades appeared. Look at the canvas "Siesta: In the artist's studio". This picture breathes a sensual unhappy and the happiness of young love.
"Home" details create a feeling of a cozy and self-sufficient life together.
In subsequent years Bonnard often wrote bathing and dressing Martha. He always set the easel very close to the bath or the bed – it helped to create that amazing effect of the presence that the artist sought. For example, in "Nude with side lighting," 1908, the artist managed to make Martha's body almost tangible.
Over time, Martha's image becomes more and more "collectively-feminine," less and less dependent on the real Marta, who lived with the artist and tortured him with her jealous suspicions. In the 1920s and 1930s, Bonnard created a series of "bathrooms" where Martha almost completely loses individual traits. The viewer sees in front of him only a beautiful female body, again and again "discovered" by the artist's grateful memory.